Sword-wielding robot smites by Wii Remote
Fly-by-Wii
Someone has adapted an industrial robot to allow it to be controlled using the remote controller that ships with Nintendo's Wii games console. A neat example of Wii Remote hackery, to be sure, but what'll happen when the robot gets to hold its own controller?
The guys at the USB Mechatronics website used the robot, a Kuka KR16, to wield a sword, linking the mechanical arm to a laptop capable of reading the signals sent out by the Wii Remote. Software running on the notebook converts the input to KR16 control codes, effectively duplicating the Remote's movements as robotic sword thrusts, strokes and parries.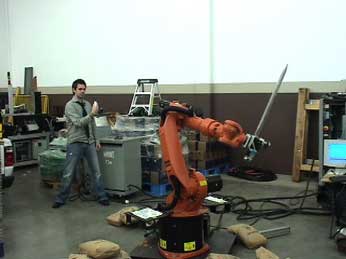 The team also got the robot swinging a tennis racket.
But think about the possibilities for recursion are, well, endless... what if the robot has a Wii Remote in its metal mitts? Playing a Wii game by controlling a WiiMote-wielding robot would make for an interesting test of the code's responsiveness. Or how about using a Wii Remote to control a robot to control a robot to control a robot to control...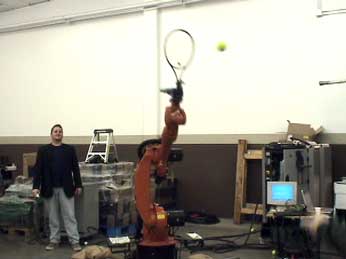 Scary stuff, particularly if a hundred of the things, mounted on caterpillar tracks, come speeding toward you over the sand dunes all in a line and waving scimitars in unison. Please notify 2000AD, the ABC Warriors have arrived...
Sponsored: Becoming a Pragmatic Security Leader