Microsoft prepares to shoot geek into space
But what happened to the Codemasters?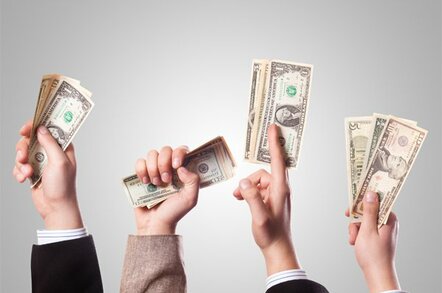 Vanishing Point, the Microsoft puzzle challenge which offers the winner a trip into space, is over - all that remains is to draw the winner's name from a hat.
The last Microsoft competition to promote Vista was won by one Nicholas P. We'd like to tell you more about how Nick came to win the Codemasters Challenge, but Microsoft won't tell us.
Vanishing Point hasn't exactly set the blogsphere on fire (getting 7,000 hits on Technoati, compared to Burning Crusade's 26,000), despite pushing all the Web 2.0 buttons: viral marketing, harnessing the power of the blogsphere, bribing prominent bloggers with free kit and early access to competition clues, not to mention featuring sexy quadruplets.
Even the prize of a trip to space didn't generate the kind of publicity Microsoft must have been hoping for. But at least Vanishing Point did get its own Wiki, and groups of people did come together to discuss the puzzles online, each contributing potential solutions and some even complaining that such co-working was tantamount to cheating.
When the winner is announced, tomorrow, we can expect some handshaking and press coverage for all concerned - in contrast to the end of the Codemasters competition, which Microsoft launched last year to show off the potential of Vista, and which finished with more of a whimper than a bang.
Codemasters offered a $50,000 prize to the most innovative application (described as being enough to pay for 2502 kung fu lessons), with other prizes contributing to a $125,000 pot. The competition ran late, with little notification, and then in December finalists were sent an e-mail saying the winners had been announced on the web site.
But anyone expecting to see what innovative applications the winners had developed was disappointed. The winner is only identified as Nicholas P., from the USA. The other top Codemasters were equally reticent about their identities, though nicely (one could say suspiciously) spread around the world.
Over the last month we've contacted Microsoft repeatedly to find out more about Nicholas P and his compatriots - what applications did they come up with, what companies did they work for, what became of their innovations? But so far no-one at Redmond has been able find the details, or been willing to pass them on, so their identity and work remain a mystery.
Hopefully the winner of Vanishing Point will get to enjoy slightly more limelight, but if not, at least a trip into space should be some recompense. ®
Sponsored: Becoming a Pragmatic Security Leader