Comms sat launch goes off with a bang
Spectacular failure of Zenit rocket
The launch of a communications satellite from a converted oil rig in the Pacific ended in a fireball on Tuesday when the rocket exploded on the launch pad, New Scientist reports.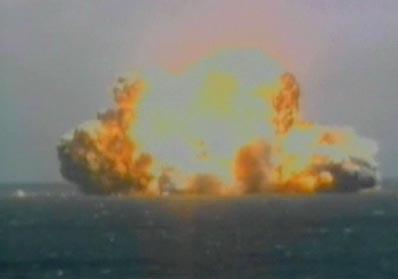 The Boeing-built commercial NSS-8 satellite - owned by SES New Skies of the Netherlands and "equipped with nearly 100 transponders for high-speed internet, broadcasting and other services" - was atop a Sea Launch-operated Zenit rocket. It was destroyed in the blast which engulfed the rig in flames (seen here in a still from a Sea Launch video).
The launch crew were unaffected by the explosion, since they wisely operate their vehicles from a remote, ship-based location.
Sea Launch has previously got 23 kerosene and liquid oxygen-fuelled Zenits off the ground, one of which quickly crashed in 2000 "after a valve problem in the rocket's second stage". Regarding the latest failure, the company said it would "establish a Failure Review Oversight Board to determine the root cause of this anomaly".
According to a report on Spaceflight Now, the Sea Launch live webcast of the fireworks featured the team announcer calling out "main engine start command" and then "go inertial". It elaborates: "But as the smoke and steam billowed from the Russian RD-171 engine firing to life, the rocket didn't begin its normal quick rise skyward. Instead, the three-stage rocket fell out of the camera view as the entire platform was enveloped in the explosion."
The satellite was, New Scientist adds, insured. SES New Skies said it was "not prepared to comment on potential causes of the mission's failure" pending the results of the investigation. ®
Sponsored: Detecting cyber attacks as a small to medium business