Evesham Solar Storm Windows Vista PC
Evesham ships its latest Core 2 Duo rig. Guess what, it runs Vista
Review By current standards the Solar Storm is very conventional and uses a Core 2 Duo processor, as Intel's silicon offers both superb dual-core performance as well as value for money. In this case it's an E6400 model that runs at 2.13GHz on a 1,066MHz FSB. There are two 512MB PC2-5300U modules to give 1GB of dual-channel memory, and a Foxconn P9657AA-8EKRS2H motherboard to tie it all together.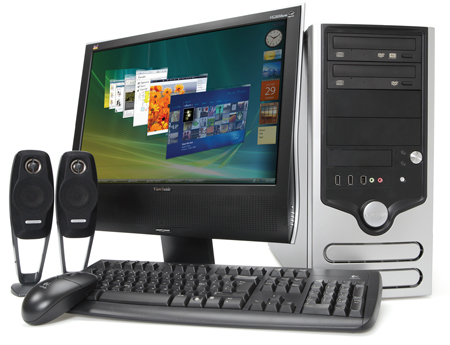 As the name suggests, this is an Intel P965-based mobo, so it fully supports the Core 2 Duo as well as the Core 2 Quad, which is handy when upgrade time comes around. On the I/O panel there are four USB 2.0 ports, one Firewire, eSATA and Gigabit Ethernet, as well as five 3.5mm sockets and optical output for the integrated HD audio. You'll also find parallel and serial legacy ports and two PS/2 connectors.
On the front of the case there are two more USB ports, one Firewire and sockets for headphones and a microphone. Evesham has installed a Winfast 7900GS graphics card with 256MB of memory and a Hauppauge Hybrid Nova-DT TV Tuner Card which has a single RF input for a TV antenna. In this package Evesham supplies a Microsoft Media Center Edition remote control and USB receiver.
There's still plenty of expansion room on the Foxconn motherboard as it has one PCI Express x1 slot, one PCI Express x4 slot and two old-style PCI slots available for use, although one of the PCI slots is hard up against the graphics card's cooling fan and is probably best left unpopulated. The hard drive is a Western Digital SATA unit with 320GB of space and there's room in the case for three more drives as Evesham hasn't included a floppy. The ICH8R South Bridge chips supports six SATA connections with RAID so you have plenty of options if you fancy increasing your storage capacity at a later date.
You get two Sony optical drives in the shape of a 16x DVD-ROM and an 18x dual-layer DVD writer. That leaves plenty of space inside the black and silver Chenbro ATX case and based on our experience with the Core 2 Duo we'd be happy that it would remain cool, calm and collected with a minimal supply of cooling air. But Evesham has taken a more cautious approach. In addition to the Intel heatsink, which is beefy enough to keep the processor under control and to also move air across the passive cooler on the North Bridge chip, there's a 120mm fan at the rear of the case, and a duct in the side of the case to pull air in through a perforated panel. Add in the fan in the power supply and the fan on the graphics card, and there's a moderate level of background noise. That's not to say that the Solar Storm is raucous - it's not - but we'd prefer an unperforated case and would consider unplugging the case fan.