Comet-hunting Rosetta films distant asteroid
And snaps pics of Mars
The comet-hunting spacecraft Rosetta has sent back its first sighting of the asteroid 21-Lutetia, one of two rocky bodies it will study en route to the comet 67p Churyumov-Gerasimenko. It will not get anywhere close to the rock for more than two years, but has already begun sending back preliminary data.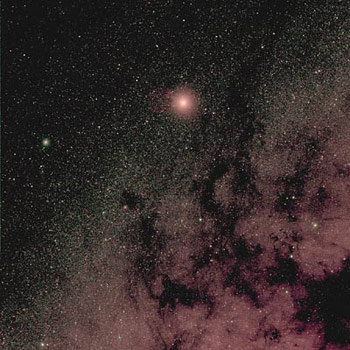 Once the Optical, Spectroscopic, and Infrared Remote Imaging System (OSIRIS) mounted onboard the Rosetta orbiter was up and running, it began tracking the asteroid. Along with its planned observations of asteroid 2867-Steins, this early study of the 100km-wide Lutetia will help the mission in a number of ways.
Like comets, asteroids contain much information about the conditions of the early solar system. One of Rosetta's primary goals is to help scientists gain a better understanding of this.
So far, the images sent back amount to little more than a stationary white blob against a background of cosmic rays smashing into the OSIRIS detector on board Rosetta. Not surprising, considering it is still some 245 million kilometres away. ESA has posted an animated sequence here.
For now the ESA scientists have been analysing how the light emitted by the asteroid changes intensity. This will allow them to build a light curve for the asteroid, and therefore work out the direction in which it is rotating.
In July 2010, Rosetta will pass much closer to Lutetia, coming within 3,000km of the rock. ESA scientists hope this early long range study will allow them a chance to practise their observational techniques for the later, closer mission.
Before that, in September 2008, Rosetta will make a close pass of the much smaller Steins asteroid.
The next encounter for Rosetta is Mars. The comet-chaser will make its closest approach to the red planet on 27 February, gaining a velocity boost from the encounter. Late last year, after an instrument check, Rosetta sent back a stunning picture of an overexposed Mars against the backdrop of the Milky Way (above). ®