Silence and 'scareware' epidemic at MySpace
MyScare the Microsoft of Web 2.0?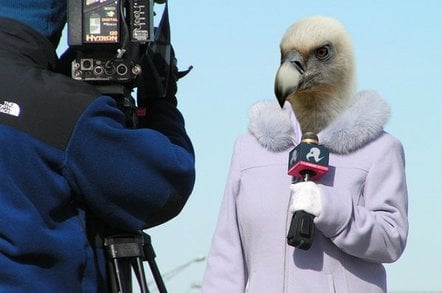 Comment MySpace's immense popularity appears to have handed the social networking site an unwanted role as a clearinghouse for Web 2.0 naughties.
The Register has uncovered a third dose of "Myscareware" trying to make its way onto users' machines for file infection. Beyond freaking out plenty of teenagers and excitable men, the software cruft has pushed MySpace one step closer to inheriting the security laggard crown from Microsoft.
Earlier this week, we highlighted a nasty scareware twosome where MySpace heaved up banner ads from AntiVirus Pro and DriveCleaner that attempted to install executable files on users' computers. Following the story's publication, numerous readers complained about the scareware pain. One reader even turned up a third questionable software load in the form of a program called ErrorSafe.
(Readers can alert us to their experiences with MySpace or other mainstream sites serving ads for badware or other pesky products by contacting this reporter at the link above.)
This latest entrant, as a screen shot appears to show, attempts to install a file called ErrorSafeNewReleaseInstall.exe on the user's computer (a Mac, no less!), and when the user refuses the offer, a pop-up repeatedly begs him to change his mind. (Readers on a MySpace related forum complained about the problem as long ago as last May.)
With 90 million accounts, MySpace is emerging as an appealing target of miscreants, second only to Microsoft, in our estimation. And like the software giant during the late 1990s, MySpace's reaction has been to deflect critics rather than learn from them.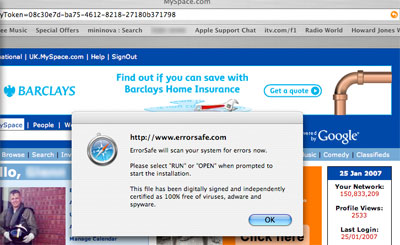 A MySpace spokeswoman, who despite her title said she's not permitted to be cited by name, emphasized that malware violates the site's terms of service and that a dedicated security team works 24/7 to stamp out offenders. She also said the same offending ads are being served to thousands of other Web sites through the same ad networks MySpace uses.
This isn't the first time MySpace PR has used the tactic of blaming others to account for the exploits hosted on the pages it controls. Last month - after the site spread a worm exploiting an embedded QuickTime player - MySpace blamed the attack on the insecurity of Apple's software.
The company has been less than transparent in responding to other exploits, which include serving banner ads that infected millions of users with adware and a phishing attack that targeted music fans. The usual response is for the company to issue a press release and be done with it.
To be fair, MySpace, with more than 119.5bn ad impressions in Q4, serves more marketing mush than most sites. Monitoring a bushel that big for a handful of rotten tomatoes is no trivial task. Add to that the arms-length way that ad networks operate and the decentralization that comes from relying on tens of millions of users to generate content.
Isn't Web 2.0 wonderful?
So far MySpace has passed on requests to lay out its network security plan. As the number of breaches grows, that's creating dissent among the ranks.
"I have said this many times, but I strongly recommend that MySpace be blocked on your networks," writes Sandi Hardmeier, a consultant under Microsoft's most valuable professional program, on her blog. "Don't let your kids go there. Don't let your employees go there. It simply isn't safe."
Pot, meet kettle, perhaps.
The last thing a hip, webby company such as MySpace can want is to look like a slow-moving technology curmudgeon. Such a reputation does not vanish at internet speed – just ask Redmond. ®