MySpace slams ad networks over 'scareware'
Para-sites
Updated MySpace has engaged in its fair share of fights over the past few months, battling alleged spammers and fending off lawsuits. Now we're hearing an allegation that the social networking site has been serving ads that hock pesky programs known as "scareware." And rather than call out the big guns, the social networking site is rolling over and playing dead.
James Kingsley, a PhD student in the UK city of Sheffield, said his wife encountered ads on Monday while tending to her MySpace account. The insult, he said, extended to repeated attempts by one of the advertised parasites to install the program using ActiveX.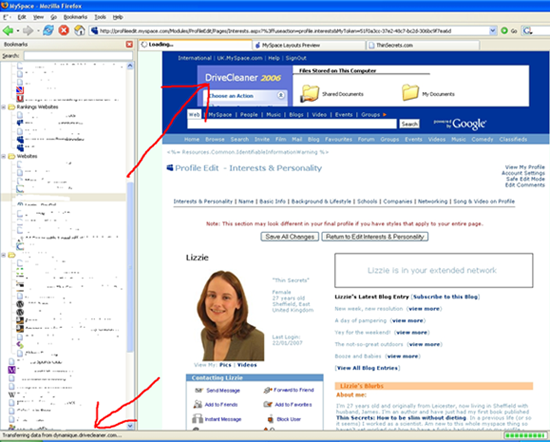 "That's the thing that really struck me as being malicious," Kingsley told us. "Although my wife is pretty skeptical about these things my mum wouldn't be."
The two pieces of offending software, Kingsley said, included WinAntiVirus Pro and DriveCleaner, and he included screen shots - posted here - that appeared to back up his claim. One shot also appears to show a warning from Internet Explorer that winantivirus.com was trying to install a program.
Security companies have issued warnings about both programs. Sophos, for instance, says WinAntiVirus loads a "spyware detection installer application which downloads applications that may exaggerate threats on a user's computer and ask user to buy software to remove these threats." Indeed, using Google to search for "winantivirus" and clicking on site associated with the product results in a rather terse warning that "visiting this web site may harm your computer!"
The same warning happens for DriveCleaner, which Symantec describes as "a security assessment tool which gives exaggerated reports of security and privacy risks on a computer."
MySpace, after promising on Monday to look into Kingsley's report, failed to respond to the half-dozen emails and phone calls we left over the past two days. We were unable to locate the maker or makers of WinAntiVirus and DriveCleaner for comment.
So we are appealing to you, our esteemed readers, to relate any instances of MySpace or other mainstream sites serving naughty ads. Please contact your reporter at the link above. ®
Update
Several hours after our story appeared, a MySpace spokeswoman issued the following comment:
Adware is against MySpace's terms of service. These ads are being delivered by ad networks who distribute them to over a thousand sites across the Internet in addition to ours. We work to have these ad networks remove such ads so that they do not appear on our site.