HTC UMPC-phone to debut on T-Mobile?
Next-gen Universal 3G PDA spied on web
T-Mobile is set to launch HTC's anticipated Athena UMPC-like device, it has been claimed. Given the high quality of the pics that accompany the report, this one appears a dead certainty. T-Mobile is said to have chosen the Ameo brand to label the machine.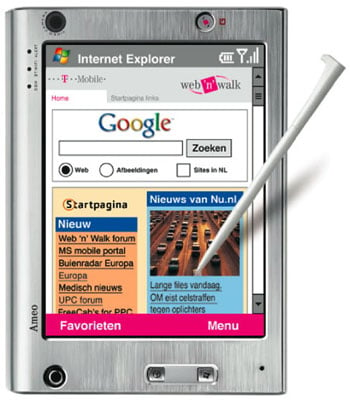 According to a report on Dutch-language site PocketInfo, the Ameo contains a 624MHz Marvell XScale processor, 64-128MB of RAM, 64-128MB of Flash ROM and an 8GB hard drive. The unit sports a 5in, 640 x 480 display and a three megapixel still photography and video camera. There's also a front-mounted camera for video calls.
Ameo/Athena is capable of quad-band GSM/GPRS/EDGE and 3G HSDPA cellular connectivity. It has Bluetooth 2.0 and 802.11b/g Wi-Fi on board too. The unit has a fold-out QWERTY keyboard, but will also operate in tablet mode.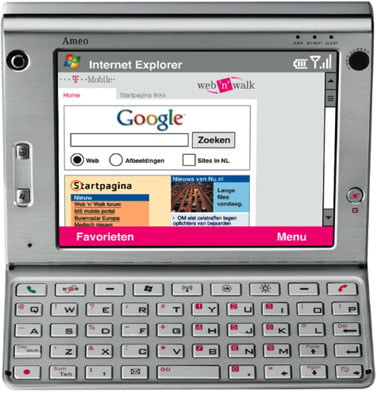 Athena has appeared in the past in dropped hints from HTC itself and as a series of blurry images on the web. This is the first time it's appeared as a commercial offering.
Ameo's not a true UMPC - it runs Windows Mobile 5.0 rather than a full version of Windows, but it does incorporate telephony, which most UMPCs don't. The 2,100mAh battery is said to yield up to 300 hours' stand-by operation and five hours' talk time.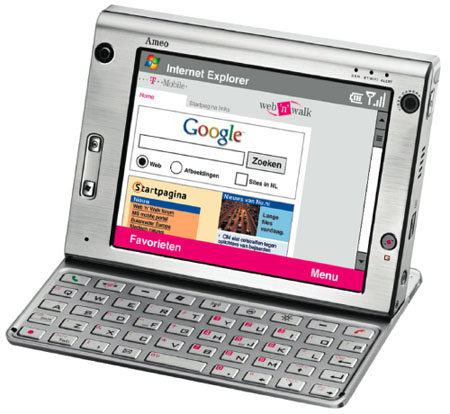 The whole thing weighs in at 355g and measures 13.3 x 9.7 x 2cm, so it's more a large PDA-phone than a small UMPC. It would still make an impressive laptop substitute for many users. ®
Sponsored: Becoming a Pragmatic Security Leader