Asus touts Vista-ready mobo line
AMD and Intel covered
With Windows Vista's formal launch less than a week away, Asus has begun shouting about its Vista-friendly motherboard line-up. It's pitching four boards: two for AMD processors, two for Intel CPUs.
The Vista Edition line comprises the AMD-oriented M2N32-SLI Premium and M2N-Plus, and the Intel-centric P5B Premium and P5B-Plus. All four ship with a remote contol unit and USB-connected receiver ready to turn the system on or off, and start up key applications. The boards also incorporate AP Trigger, a fast-boot system to take the user straight into a chosen app.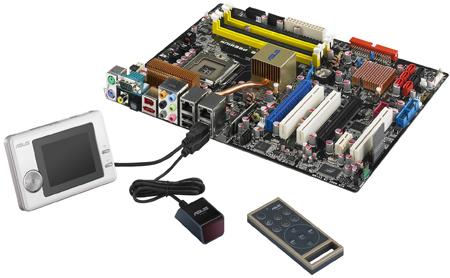 Each board incorporates a Flash cache to speed up boot times under the control of Vista's ReadyBoost technology. Asus call its implementation ASAP, or Asus Accelerated Propeller. Go figure.
Finally, the two Premium-class boards also ship with Asus' ScreenDUO, a USB-connected secondary display unit that runs its own OS and supports Vista's laptop-oriented SideShow system. ScreenDuo will show web-sourced information such as RSS feeds, provide access to media content stored on the host PC's hard drive, and provide an email checking and read-out facility.
The two AMD mobos are based on Nvidia's nForce 590 SLI and 500 SLI chipsets, respectively, while both Intel boards are based on Intel's own P965. All four support dual-channel DDR 2 clocked at up to 800MHz. ®