Agere revives Intel 'personal server' handheld concept
BluOnyx not unlike Palm's LifeDrive, either
Chip maker Agere has launched what it claims is the first mobile content server, a gadget designed to be as capable of grabbing, storing and serving documents and media files as a PC is. But be a darn sight more portable.
Called BluOnyx, the device contains not only storage - Flash or hard disk - but also an SD IO card slot, USB port, Bluetooth 2.0 and Wi-Fi for connectivity. There's a 600MHz processor running the VXWorks embedded operating system to give the unit the ability to crunch numbers and run the media streaming code, and a battery to keep it running when you're out and about.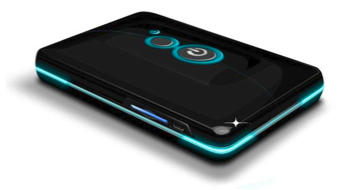 With all that hardware in your pocket - BluOnyx measures 9 x 6 x 1.5cm and weighs 120g - it'll push a Java remote-control app to your phone, allowing you to transfer content between the two devices and to PCs, digital cameras and camcorders, and other machines. And other users - there's the ability to share DRM-free content too.
Agere envisages the gadget containing 1-60GB of storage capacity, but since its planning to sell the device to third-parties who'll build on the basics to create a product of their own, how BluOnyx devices come to market remains to be seen. It's in the process of attempting to sign up vendors, which it expects to bring BluOnyx-based offerings to market in time for the pre-Christmas sales period.
Depending the specs, BluOnyx products are likely to be priced between £50 and £130, Agere said, though given the technology on board, that sounds optimistic to us.
Perhaps to Agere too - it anticipates some vendors will subsidise the price much like mobile phone networks subsidise handset prices. With its integrated internet connectivity, BluOnyx can make use of hotspot networks - maybe even cellular links, if a specific vendor wants it - it's not hard to imagine carriers offering the product at a low cost to encourage the use of higher-margin network data transfers.
Reg Hardware readers will recall Intel's R&D project to develop a handheld personal media server, which had a spec and mode of operation not unlike BluOnyx. Intel never took its 'personal server' out of the lab, and it had the notion that the unit could pack in sufficient storage to record a lifetime's worth of media memories, but it's not so different from what Agere's trying to do with BluOnyx.
Palm watchers will see a resemblance to Palm's LifeDrive Mobile Manager, too, though minus that gadget's PDA functionality. ®
Sponsored: Becoming a Pragmatic Security Leader