Dell debuts semi-rugged laptop for survivalists
Commando line interface
Dell yesterday parachuted in its first rugged notebook - well, semi-rugged - claiming the machine meets military standards for resistance to vibration, humidity, altitude and torture* - so presumably it's ready to yield its rank, model name and model number, but nothing else...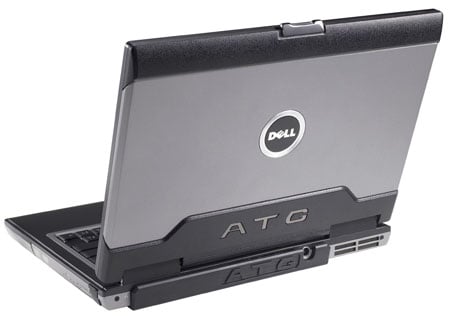 The Latitude ATG D620 is covered in "high durability paint" - not camo, alas - and sports a blood-resistant keyboard, covers for its manifold ports and a hard drive mounted on shock absorbers. The laptop has a 14.1in, 1,280 x 800 screen.
It can be loaded with up to 4GB of DDR 2 SDRAM and any one of a range of Core 2 Duo processors can be drawn from the quatermaster's store and installed in the machine.
Prices start at $2,499, Dell said, and the ATG D620 is available in the US now. It will be deployed overseas bearing chewing gum and Hershey bars during the next couple of weeks. ®
* Well, verbal insults maybe...