Toshiba touts 51GB HD DVD
Three-layer player
Toshiba has submitted a triple-layer, 51GB HD DVD-ROM disc to the standard's overseer in the hope the technology will be adopted as a standard by the end of the year. If approved, it allow the format to exceed the 50GB storage capacity of rival medium Blu-ray Disc.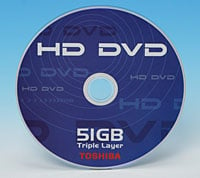 The HD DVD standard currently defines single- and dual-layer discs capable of holding 15GB and 30GB of data, respectively. That's plenty, say the format's supporters, for a movie encoded in 1080p HD resolution and a stack of extras.
But Blu-ray backers have long touted their favoured format's higher capacity. In May 2005, Toshiba said it was hoping to eliminate that advantage, and initially touted a three-layer disc capable of holding 45GB. The new disc's higher capacity arises from an increase in the storage space on each layer, to 17GB.
The snag, of course, is that today's HD DVD players will be incapable of reading the new disc, which is something of a problem for early adopters, who will presumably have to buy new kit. Toshiba last week positioned the new disc as an "extended capacity, high-end option".