Belkin PureAV HDMI Interface 3-to-1 Video Switch
Blah
Review This is a classic 'it does what it says on the tin' product. As the name indicates, it has three HDMI inputs and one output, and it allows you to switch signals between them so you can connect multiple devices to a single display. It's completely plug-and-play: just hook the HDMI sources into the inputs, plug the output into the screen and select which input to show...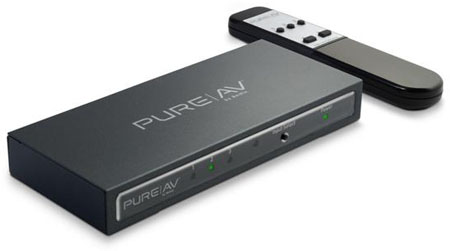 The switch is just over 17cm long by 7cm deep and just about 2.5cm high. It has a metal case that makes it feel solid. On the back panel are three HDMI inputs and single HDMI output, and a power socket. The front panel has four LEDs, three to indicate which input is in use and a fourth to show it's powered up. There's also a little round push-button which steps through the inputs each time it's pressed, and a sensor for the remote control.
The remote is the only thing that feels slightly plasticy, it has three buttons to allow you to select specific inputs, and a pair of arrow keys to step backward and forward through the inputs one at a time.
The power supply is a moulded plug type - familiar to anyone with a mobile phone - and though not huge is nonetheless quite bulky. Belkin has also bundled a PureAV HDMI-to-HDMI cable which has a nice, thick, pro feel and gold-plated connectors.
The system supports all standard HDMI resolutions - 480i, 480p, 720p, 1080i and 1080p - and switches seemlessly between different resolutions on different inputs, though sometimes the TV can get confused about the resolution when directly switching between inputs using the remote control. Cycling through the inputs, using either the remote or the buttons on the box itself, fixes that.
The switcher is fully HDCP (High-bandwidth Digital Content Protection) compliant so works with newer devices such as Blu-ray Disc and HD DVD players that demand the technology.
As with all HDMI devices the 3-in-1 can be used to switch between DVI sources using appropriate DVI-HDMI and HDMI-DVI cables, but of course you won't get audio through DVI.
If more ports are required - especially if you need more than one output - there's the Gefen 4 x 4 HDMI Matrix, which will switch any input to any output simultaneously but it costs considerably more than the Belkin product's £100, which is perhaps pricey for what the gadget does but loose change compared to the cost of many of the devices it'll be hooked up to.
Verdict
Many newer TVs still lack more than one HDMI input and even if they have two, more and more playback devices now feature HDMI outputs so it's easy to run out. For HD buffs, the Belkin PureAV HDMI 3-to-1 switcher is small, sturdy and does its simple job exactly as it should. ®
Sponsored: Minds Mastering Machines - Call for papers now open

Belkin PureAV HDMI Interface 3-to-1 Video Switch
Put an end to manual HDMI cable switching misery...
Price:
£100 inc VAT/$200 RRP