Blade innovations highlight energy efficiency opportunities
As green pressures grow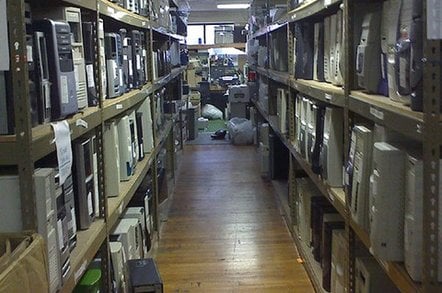 Pressures are growing for greater energy efficiency on the back of increasing concerns over the effects of global warming and likely energy shortages. Data centres are big energy users of course, drawing on lots of power not just to run the servers and systems but also to cool down the environment as they generate heat by the megawatt. So herein is a major opportunity.
The performance and reliability of blade servers has progressed rapidly over the past four years. Blade servers provide a very small footprint and low energy requirement per megabyte. This density has meant careful planning to keep the blades from overheating.
So here is one technology innovation which has arguably helped in a minor way to counter global warming. Yet that was not the reason for purchase.
In fact, so popular are blades becoming that, according to Doug Balog, VP of IBM BladeCenters and chairman of Blade.org, 141 of the world's top 500 supercomputers now use blades. (Blade.org is an IBM-sponsored blade industry body founded early in 2006 aimed at bringing disparate blade developments together.)
"As far as business is concerned, the green factor is great, but it's got to provide a return," said Paul Di Leo, CEO of Zeus Technology speaking at a round-table in London in December organised by Blade.org. In other words, business leaders are swayed much more by economic arguments than environmental ones, but there does not have to be a conflict. Moreover, innovative thinking can dramatically save on power—and therefore costs.
Zeus concentrates on application acceleration on existing hardware, and has now carried this across to IBM BladeCenters; its software sits on a blade and includes a TCP offload engine. Meanwhile, Tom Beese, CEO of semiconductor developer ClearSpeed, sees an upcoming problem from chip clock speeds starting to break power consumption. So, he claimed: "We've produced completely new architecture to produce the world's highest performance processor for double precision, and also the most power-efficient."
He explained how the technology had to overcome hurdles to make it fit in with existing system models and mixes of main processor and standard operating systems. Financial institutions' hedge funds were particularly concerned with space but did not want the cost and upheaval of relocating, he said. So, while blades themselves helped the space issue, using ClearSpeed's semiconductors had meant 100x performance without an increase in power.
So, if these power and consequent running cost savings can be demonstrated alongside dramatic performance increases, why don't major enterprises implement them before they hit capacity problems?
However, this matter goes deeper. It seems inevitable that whole enterprises will need green policies and plans soon enough. This logically means including at least one board-member tasked with raising and implementing green initiatives which are also good economics. Then, for instance, a company might start to properly utilise the heat generated in its data centres for warming offices and nearby homes in winter—reducing its energy consumption and cost in data centre cooling. (Yes, I know that is a simplistic view and there are technological and security hurdles—but these are surely not beyond the wit of man to solve.)
Silvio Weeren is a member of the ECMA International TC38 Committee on energy efficiency and environment attributes. He asked the absolutely basic question: "What is energy efficiency?" and went on to explain that there was no good measure yet. He said that 50 per cent of a PC's energy usage was estimated to occur in its manufacture. Meanwhile, since typical server utilisation was 10–20 per cent, so power wastage was 60–70 per cent.
ECMA is working on a new kind of benchmark to address this, perhaps coming up with a measure of application performance per Watt of electricity used. Weeren hoped for a measure on PCs and notebooks before the end of 2007, with other systems then following. If this becomes a reality, it could revolutionise thinking on IT systems manufacture and purchase in the coming decade.
Meanwhile, the industry continues hampering itself. One can understand IBM's arch-competitors in the blade market, HP and Dell, being reluctant to join an IBM-sponsored body like Blade.org, and to make their blade architecture specifications available. Conversely, incompatibilities between hardwares undermine manufacturing economies of scale and data centre functionality, while companies like ClearSpeed and Zeus will always prefer to support fewer versions of their developments in reaching the widest market. One can debate the pros and cons of the approaches.
I do though believe there is now a strong case for industry-wide buy-in to a body focused on IT innovation for tackling head-on the huge energy waste for which IT is responsible.
Copyright © 2007, IT-Analysis.com