Netgear Digital Entertainer EVA700 wireless media streamer
Pump HD content around your home
Review Another day, another media streamer. True, the concept isn't a bad one - video content is best enjoyed on a big telly in the comfort of your lounge, rather than hunched up in front of a computer screen. But with numerous offerings on the market, there's little to tell them apart. Netgear's Digital Entertainer EVA700, however, has a nifty little feature up its sleeve...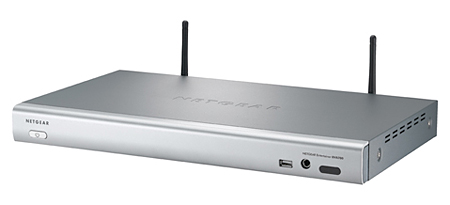 Like many such gadgets, it comes with standard composite-video, s-video and SCART connectos, but it's also packed with an HD component-video output. This means if you're HD ready but your component-video ports are just sitting there gathering dust, the EVA700 makes an ideal lounge-side companion.
Sadly Netgear hasn't gone the whole hog and included HDMI as well, which would provide flexibility depending on what HD sources you already have, and could prevent a plug fight at the back of your TV. Whatever your configuration the EVA700 has support for both 720p and 1080i HD resolutions, but not 1080p which some high-end sets are starting to support for the Blu-ray/HD DVD era.
The EVA700 offers both wired 100Mbps Ethernet and wireless 802.11g network connections. For standard-definition (SD) content either will be adequate. But if you're looking to push HD through the device, you're probably better off sticking to the wired link. With an un-congested 802.11g network and the wind behind it, it'll just about cope with HD over wireless, but if anyone else is using the connection, then dropped frames and blocky pictures could ensue.
If you're stuck with an older 11Mbps 802.11b wireless network, it'll still work for SD but you can forget about enjoying HD material, unless you consider YouTube to be the bastion of jitter-free video quality.

Setup is easy - plug the EVA700 in, turn it on and then configure your network security if necessary. It'll then probe the network and see what devices it can find. As it's Windows Media Connect compatible, if you've already got a machine set up to share your files you are but a click away from your media. If not, simply bung the bundled CD in your PC, install the software and point it in the direction of your media content.
It also picked up a NAS (Network Attached Storage) drive sitting on my network automatically - a nice surprise - providing full access to the files stored on it. Furthermore, you can access and play files saved on a USB storage devices, such as Flash memory keys or even an iPod, by using the front-mounted USB port.