Samsung SGH-Z560 'super 3G' phone
Broadband clamshell
Review HSDPA can deliver broadband to your mobile phone, and Samsung's SGH Z560 – enabled by T-Mobile's Web'n'Walk service – is leading the way. A two megapixel camera and some thoughtful features make the Z560 a one-stop-shop mobile multimedia prospect. But is the experience any good?
Samsung's recently released SGH-Z560 clamshell mobile phone was the first HSDPA (High-Speed Download Packet Access) model launched in Europe. HSDPA is a 3.5G technology that can transmit data at speeds up to six times faster than the 3G network, and its current top download speed of 1.8Mbps promises a meaningful mobile-based multimedia experience.
However, whether you get close to that is another matter. For example, I sent myself a 5.5MB QuickTime movie trailer via webmail, and 130 secs later was enjoying it on the Z560's vibrant 240 x 320 pixel, 262,144-colour TFT. That's an average of 336Kbps (0.34 Mbps), which is what I'd expect from 3G, not HSDPA. That said, the webmail server could have limited the test so I downloaded a few mobile music videos which gave me an average of around 0.68Mbps.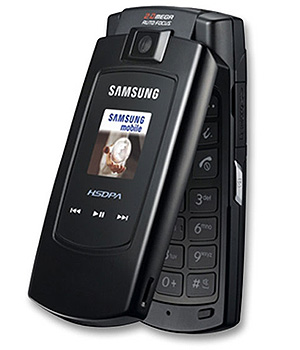 This broadband experience is driven by T-Mobile's Web'n'Walk service, which gives unlimited web access on compatible mobiles. If you're worried that poor 3G/HSDPA network coverage may scupper your mobile broadband experience, then T-Mobile's "Street Check" service allows potential customers to check if signal strength in their postcode area is strong enough to warrant signing up. If coverage fails to meet your needs, T-Mobile will give you 14 days to return the phone.
With Web'n'Walk it took just over six seconds to launch the NetFront microbrowser and load the Google homepage. Mobile-optimised sites such as bbc.co.uk take around three seconds to load, but image-heavy non-optimised sites – and they are bountiful – can take ten times as long. They're not fun to navigate either – rather like reading a broadsheet through a letterbox. The result is you have to be very selective about which sites to visit, but once you've amassed a decent array of mobile-compliant sites then the experience becomes far less painful.