iKey Plus portable USB recorder
Connect iPod, press Record
Review For budding DJs, or musicians who want to record live sets or gigs, the new iKey Plus portable USB recorder could be just what the beat doctor ordered. Designed to work with - yes, you've guessed it - the iPod, or any other external USB storage device, the iKey Plus can record live audio in MP3 or WAV format without the need for a PC...
Portable digital audio recorders are nothing new. DAT and MiniDisc have both been around for years but neither format records directly to MP3 or WAV. This normally means you have to replay the audio back out in real time while recording it to a PC in the format you want. Alternatively, many of today's personal MP3 players offer direct encoding to MP3 from any line-level source, such as a CD player. However, few let you manually control the record level and many limit recordings to low bit rates. This, though, is where the iKey Plus steps in, at a reasonable £145.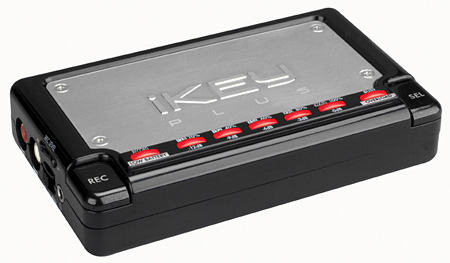 Able to record audio in uncompressed WAV format or as MP3s encoded up to 320Kbps, the iKey Plus is the higher specced version of two similar products from iKey-Audio, a division of GCI Technologies. Compared to the standard iKey recorder, the 'Plus' model features additional inputs, a VU meter display and a headphone monitor output.
Measuring a compact 13.8 x 8.3 x 2.8cm, the main body is constructed of gloss black plastic and feels sturdy enough in the hand. A full metal construction would have been preferable, but the snazzy aluminium faceplate-cum-battery cover should keep the metal junkies happy. Alongside this is a row of seven multi-function LEDs, as well as the main Record and Select buttons. More on these later.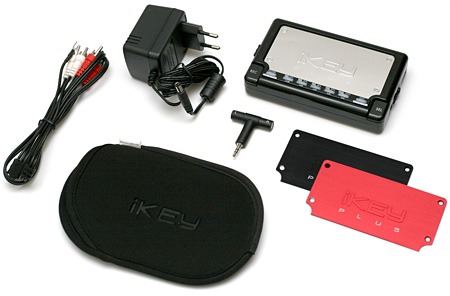 Batteries are not included but if four rechargeable AAs are fitted, the iKey Plus will operate as a charger. Of course, regular alkalines are fine but, as the manual mentions, don't connect the power adaptor at the same time - there's a risk the batteries will explode. As for battery life, a set of 2000mAh rechargeables lasted just over five hours with constant use. Included in the box is a mini stereo microphone, stereo phono connector lead and a soft carry pouch, as well as two additional faceplates finished in red and black.