Anti-spam tech reborn as web activist tool
Phoenix from the flames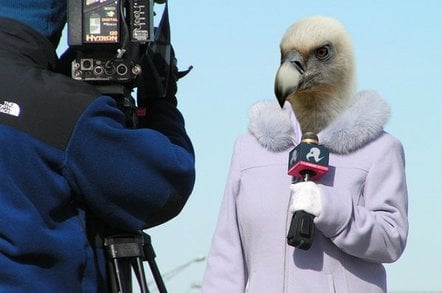 The people behind Blue Security, the anti-spam firm brought down by a rogue spammer earlier this year, have launched a new social action firm.
The new company - renamed Collactive - will market tools designed to organise grassroots action by web activists. Collactive is repurposing Blue Security's Blue Frog technology to put pressure on government agencies in much the same way the technology was used to make life difficult for spammers, Wired reports.
Blue Security established a "Do Not Intrude Registry" (akin to the Do Not Call Registry for telemarketing) with around 450,000 members. Participants downloaded a small tool, called Blue Frog, which systematically floods the websites of spammers with opt-out messages. Depending on your point of view, this initiative could either be viewed as community action or vigilantism.
In April, members of the Blue community received aggressive spam messages in an attempt to intimidate users into dropping out of Blue Security's network. This campaign of intimidation was followed by a sophisticated denial of service attack against Blue Security's website. According to Blue Security, a renegade Russian language speaking spammer known as PharmaMaster succeeded in bribing a staff member at a top-tier ISP into black-holing Blue Security's former IP address at internet backbone routers. This rendered Blue's main website inaccessible outside Israel.
After the attack, Blue Security embarked on restoring its community-based anti-spam service to its members. But after working closely with its service providers and partners to help resolve the problems, it has come to the conclusion that the risk of further attacks remains too great. Now the tool has been repurposed by Blue Security founders Aran Reshef and Amir Hirsh as a means to make it easier for web activists to lobby online.
The Collactive platform, which can be configured by organsations and released as either stand-alone software or a Firefox plug-in, allows net activists to fill out online petitions, send messages to politicians or to publicise their cause by posting stories to aggregators such as Digg. Early adopters of the technology include the Privacy Alert Network, which lobbies against the damage to civil liberties inflicted by misguided Homeland Security initiatives, and WorldCoolers, which aims to raise awareness about the dangers of global warming.
The technology is designed to bring commonly-used tools such as activist mailing lists into the 21st century by making the technology more interactive. "Basically, what we are trying to do is help anybody to participate in the Web 2.0 revolution, regardless of their technical skills," dormer Blue Security chief exec Aran Reshef told Wired. ®
Sponsored: Becoming a Pragmatic Security Leader