Japan gets fug-fading USB ashtray

The Universal Serial Bus has come to the rescue of smokers who want to partake of a crafty ciggie but ensure the boss doesn't get a whiff that office regulations are being so flagrantly transgressed. Yes, it's the USB ashtray, disguises when closed as a car.
Opening the gizmo triggers a fan which, the product's Japanese supplier claims, sucks the smoke through an absorbing filter. Of course, any fumes you breathe out are your own affair, but you can always direct the flow toward the ashtray's fan...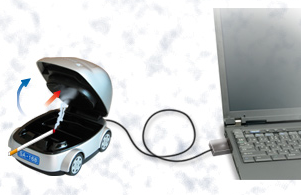 The gadget's USB powered, but it'll also run off a pair of AAA batteries for when you're out and about, at your mother's, or whatever.
Each ashtray costs around ¥500 ($4.30/£2.20/€3.25). More details from supplier Greenhouse . ®