Sun donates Hewlett and Packard to museum
Now you can too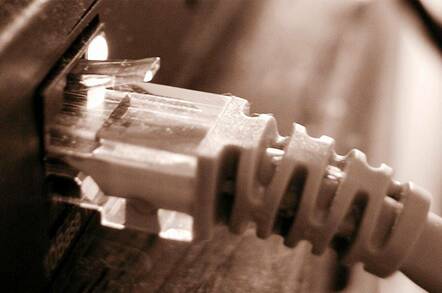 Ever generous, Sun Microsystems has donated the Hewlett and Packard figure it purchased in August to San Jose's Tech museum. Now, the Tech has put out a call for the rest of you to help purchase the three remaining Silicon Valley "hitchhikers."
No clue what's going on? Well, here we go.
Earlier this year, famed Michigan artist Jim Pallas crafted five wooden sculptures of Silicon Valley icons such as the HP boys, Intel co-founder Bob Noyce and semiconductor pioneer William Shockley. The figures were placed in different locations around the country with requests stuck to their backs, asking people to help transport them back to homes in Silicon Valley. Thanks to the work of Sun's very distinguished engineer Mario Wolczko and some GPS phones, people could track the figures' journeys.
All of the figures except Noyce made their way to and around Silicon Valley. The Hewlett and Packard figure, for example, ended up at Sun Microsystems headquarters after the company purchased it for $6,000.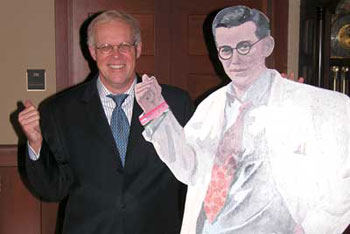 On Dec. 18, Sun plans to reveal that it has donated H and P to The Tech, but the museum doesn't want to stop there. It hopes to add all of the remaining figures to its permanent collection as part of an ongoing tribute to Silicon Valley.
"Ultimately, we would incorporate them into a major new exhibition called 'Spirit of Silicon Valley," said Greg Brown, VP of engineering at The Tech Museum of Innovation."This exhibit will engage visitors in the emotions and excitement of the start-ups, breakthroughs, mergers, failures, and successes that happen every day in Silicon Valley."
In order for this to happen, the museum and the project backers are asking for you good people to step up and purchase the figures and then donate them to the museum.
"The artist deserves to be compensated for what he has done, and so do the folks that helped transport these guys," Brown said.
All told, we're talking about $27,000. That's nothing for the Silcon Valley elite.
What do you say, Mr. Hennessy? You're looking pretty good with Frederick Terman, and we hear those board gigs pay pretty well.
Anyone interested in buying the figures can shoot us a note or contact the project's lead here. ®