Dell Inspiron 6400 Core 2 Duo laptop
An inspired Inspiron?
Review With the advent of Intel's Core 2 Duo processors we're at last beginning to see the kind of power and portability that was being claimed, somewhat optimistically, back in the early days of notebook computing. Not one to miss out, Dell has rolled out its Core 2 Duo based Inspiron 6400...
The 6400, like so much of the Dell range, comes in a variety of user-defined guises so bear this in mind when it comes to the performance numbers and features I'll be making reference to. Indeed, in the time we've had the notebook, a Dell special offer has upped the memory to 2GB from the two 512MB modules of DDR 2 SDRAM featured in our version.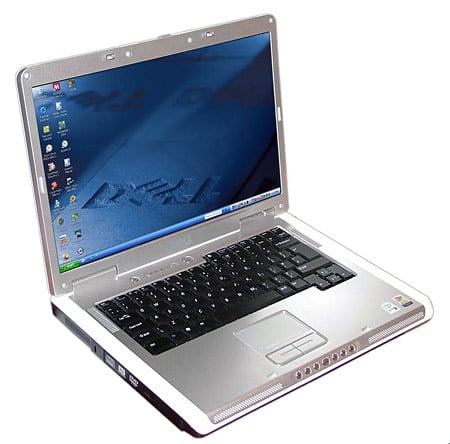 Our particular model also came equipped with Intel's impressive new mobile Core 2 Duo processor, the T7200, which ticks along at 2.0GHz off a 667MHz frontside bus. 4MB of shared L2 cache helps speed things along too. Like the entire mobile range of Core 2 Duo processors it operates at between 1.0375V and 1.3V and runs comparatively cool for its speed.
Furthermore, our test unit arrived with an ATI Mobility Radeon X1400 graphics chip and not the X1300 currently offered on Dell's website as standard for all but the most basic version of the 6400. The X1400 upgrade will set you back around £47 and is probably worth the extra money seeing as the X1300 combined with the 15.4in WSXGA+ screen will not be compatible with Windows Vista. In addition all models - again, except the basic one - now come equipped with an 8x dual-layer DVD°R/RW drive. The hard disk is a Samsung 120GB SATA unit which should fend off obsolescence over the life of the notebook.