Buffalo bullish over skinny scrollwheel mouse
Ergonomically egregious?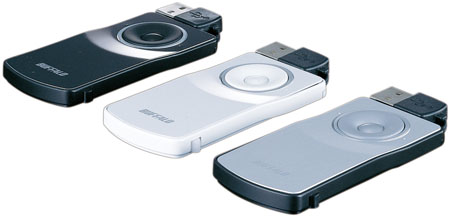 No, it's not Apple's next-generation iPod Shuffle, but add-on maker Buffalo's latest mouse, a slimline 8mm-thick rodent with an iPod-style scrollwheel in place of the more usual vertically placed rotary control. The wheel rotates to control a window's vertical scroll bar, but pressing the left or right edges scrolls horizontally in that direction.
The mouse also sports a retractable USB cable. That and the scroll wheel are all very clever, but is it just us or do Reg Hardware readers also fear Buffalo's product will be an ergonomic disaster? The mouse measures 9.4 x 4 x 0.8cm - hardly a nice, palm-fitting shape and set of dimensions. How comfortable will this thing be to use over long periods of time?
Either way, it goes on sale in Japan in the middle of the month for around ¥6,660 ($58/£29/€44). ®
Related review