App posted to cut PC power draw, help save planet
Local Cooling targets global warming
Want to make your PC a little more eco-friendly? Keen to cut your electricity bills and reduce carbon-dioxide emissions? Uniblue Research Labs has launched Local Cooling, a Windows XP app that, it claims, allows you to limit how much energy key PC components consume.
The Local Cooling app essentially provides a greater degree of control of Windows XP's power modes than the operating system itself exposes to the user, Uniblue suggested. Well, sort of - the app provides a better way of setting the same monitor and hard drive power-down values, and the auto-standby period, than Windows' Power Options control panel does. Some control over CPU clock speed and voltage would have been handy.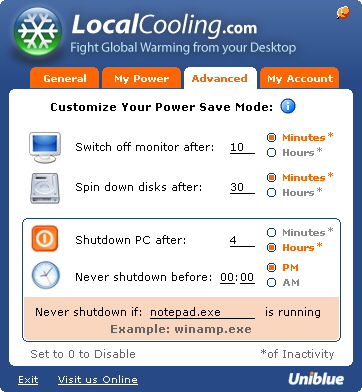 The app also shows you how much energy your monitor, hard drive, processor, graphics card and other system components are using up at any given moment.
It's a sort of green gauge, we suppose... a plum piece of software for those of a environmentalist bent.
Uniblue said some 1,434 folk have downloaded the 2.5MB app so far. Those who've installed and run it have contributed to a 1,128.38KWh energy saving - not exactly huge, but a step in the right direction, given the need to slow and reverse global warming.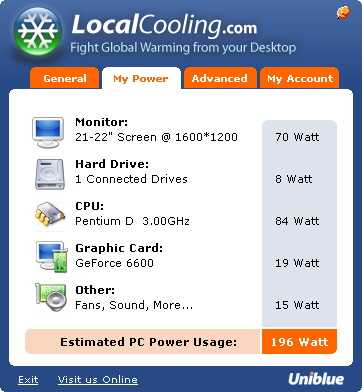 The company claimed a firm with 100 PCs could save up to $2,000 a year using Local Cooling.
Uniblue said it developed the software as part of a project to cut its own energy bills. With a little tweaking, it's making the app available to all free of charge. It's set up software to enable teams of greens to compete to yield the biggest energy savings.
Local Cooling can be downloaded here. ®