Vista, Office and Exchange 2007 to help struggling Brits
You've never had it so good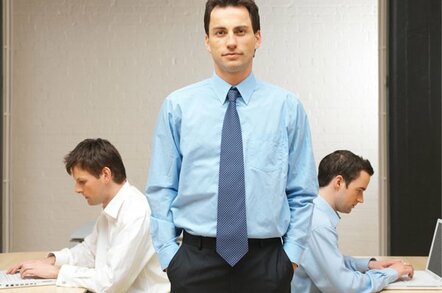 Microsoft has pitched its first operating system in five years plus updates to productivity and collaboration tools as key to solving an apparent UK malaise.
Launching Windows Vista, 2007 Office System and Exchange Server 2007 in London, MGordon Frazer, Microsoft's UK managing director, claimed improvements to its software would increase UK workers' productivity, translating into improved economic performance.
He told press at the London leg of the official global launch: "The people that work in business need to be supported by their information tech tools... We believe our new software is about unlocking the potential of people."
The event was themed around information management under the company's "people-ready business". Microsoft hyped Office and Exchange and glossed over the delayed Windows Vista that most users can't get until January. The company has spent £10bn R&D on the trio - the "biggest launch to business Microsoft has ever done," according to Frazer.
He cherry-picked some interesting high-level data from The Conference Board and London School of Economics to "prove" the UK is lagging the US and Europe. The way to catch up? Get better desktop, personal productivity and collaboration software from Microsoft.
Eighty per cent of the productivity difference between the US and UK comes from use of IT, and UK workers' output lags those in France and Germany. "We are not as good as other countries at turning innovation into productivity." Frazer said.
Here comes the software bit... according to some Microsoft research 79 per cent of customers believe the new interfaces in Windows Vista, Office and Exchange will improve peoples' productivity, 75-80 per cent will spend less time scheduling meetings in Exchange 2007, and there'll be 60-65 per cent fewere clicks and mouse journeys in Office 2007.
In other words, Microsoft is using a new interface to expose many existing functions in Office that users didn't know existed or found too hard to use. Office replaces many menus with a "ribbon" and icons. Among the genuine improvements, integration between Office and Microsoft's CRM means that users can view business data at the same time as their Outlook diary and to-do-lists.
Also, there's improved search in Windows Vista and SharePoint, and online collaboration through Groove Workspaces for employees and partners, which offers threaded discussions, issue tracking, and document libraries shared with SharePoint. Microsoft stressed security by working virtually, and of using BitLocker in Windows Vista to encrypt a PC hard drive in case the machine is lost or stolen, plus the ability to specify who can access documents to prevent leaks and stolen IP. ®
Sponsored: Detecting cyber attacks as a small to medium business