Auzentech X-Meridian 7.1 sound card
At last, a real rival for Creative's X-Fi?
Review The vast majority of modern motherboards have integrated HD audio, and if you do fancy an sonic upgrade, most likely for gaming, the obvious candidate is a Creative Sound Blaster X-Fi. So where the heck does Auzentech hope its X-Meridian 7.1 sound card will fit in?
Integrated HD audio is fairly impressive and while the exact specification will vary from one motherboard to another you can expect to get mini jack support for 5.1 or 7.1 surround sound speakers. You may also get some sort of digital S/PDIF output. Taking the Intel D975XBX2 motherboard as an example - as we happen to have one on the test bench - there are five mini jacks plus coaxial and optical digital outputs.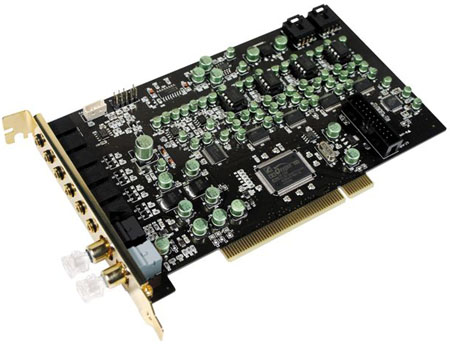 Intel backs up the SigmaTel 9274D HD audio chip with its own Audio Studio 2.0 software, which is a model of clarity and design that will help you set up your speakers and select ambient settings to enhance your music or game play. You also get one of those handy pictorial guides that help the bewildered check which of the many, many cables they've just plugged into the back of their PC are in the correct port.
What you don't get with integrated HD audio is EAX environmental audio so while you'll hear the thud of your enemy's boots behind you, you won't be clear whether they are walking on a steel floor or rock. And you'll miss the nuances when characters in games move around in a room as the sound won't reflect off the walls correctly.
Gamers, then, will certainly benefit from an upgrade to a decent sound card, but as I say, the vast majority will undoubtedly opt for some sort of Creative SoundBlaster.
The case for a sound card for other applications isn't so clear cut. A few years ago it was easy to tell the difference between basic AC'97 integrated audio and a Terratec DMX 6fire 24/96, Videologic Sonic Xplosion, M-Audio Revolution 7.1 or a SoundBlaster Live! A dedicated sound card had far more punch and precision, as well as a better range of connectors. Integrating HD audio, however, has changed all that.
For example, I plugged an Audigy 2 ZS into the Intel D975XBX2 and was unable to hear any difference when I played music or watched a movie. What is different is the stack of software that Creative bundled with its sound cards which is a whopping great pile of bloatware. It's taken Creative many years to come up with some decent software and I reckon only now has it come up to the standard of Intel Audio Studio 2.0 software. That said, the Creative mixer and mode switcher are very good indeed.