i-mate unveils candybar-sized PDA phone
Launches a BlackBerry alternative too
Smart phone seller i-mate has launched its latest Windows Mobile handhelds: a follow up to the QWERTY keyboard equipped JAQ it launched a few months ago, and a classic tablet-like PDA phone squeezed into a candybar form-factor.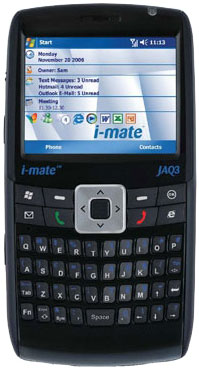 The JAQ3 sports a 2.4in, 320 x 240, 65,536-colour touch screen above the keyboard. It's a quad-band GSM/GPRS/EDGE device with Bluetooth 1.2 - featuring stereo audio support - and 802.11b/g Wi-Fi. It has 128MB of ROM, 64MB of RAM and a MicroSD card slot for more.
Its driven by a 200MHz Texas Instruments OMAP 850 processor, and has a two megapixel digicam with 4x digital zoom. There's a scroll-wheel control on the left side. The handset is pitched as a more feature-rich alternative to the Wi-Fi-less JAQ, but in all other respects they have near-identical specs.
The JAQ3 is 6.8cm wide, while the PDAL measures just 5.6cm. The handset looks like a slider phone, but it's actually a tablet-style PDA phone. Its specifications match those of the JAQ3, though it has an 1,100mAh battery to the JAQ3's 1,200mAh power pack.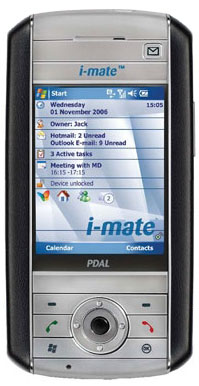 i-mate said the two devices "deliver the many familiar applications of Microsoft Windows Mobile 5.0... at a lower price point". At a lower price point than what, it didn't say. Nor did reveal what it expects to charge for the new handsets. ®