Symbol readies slimmer corporate PDA phone?
MC35 said to offer VoIP, push-to-talk, optional Wi-Fi
Exclusive Barcode reader specialist and soon-to-be Motorola subsidiary Symbol may be set to launch its latest PDA phone in Q1 2007, Reg Hardware has learned, a more lightweight alternative to the beefier devices it's offered to date.
Dubbed the MC35, the handheld is said to be a "durable, lightweight... all-in-one enterprise communication device", according to company blurb sent our way this week. Alas, the information - from a source in a position to be familiar with the company's plans - didn't include a full specification sheet, but the MC35 is thought to contain full mobile phone functionality and a built-in GPS receiver. It will run Windows Mobile software, almost certainly version 5.0. We'd expect Bluetooth to be part of the spec too.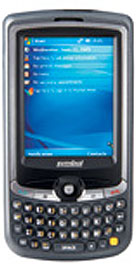 Symbol's launch schedule should see the MC35 ship in February, a month after the company unveils the product. March and April will see the non-English language variants ship, along with what's down as a "WLAN version", suggesting Wi-Fi support will be offered as an optional extra.
The MC35 will apparently offer "multi-mode voice and data communication", including push-to-talk functionality. 'Multi-mode' may refer to voice calls over VoIP as well cellular, though the information we have isn't conclusive. VoIP is a part of Symbol's currently available MC50 PDA, so it's a good bet the technology will be included in the MC35 too. ®