Pam Anderson's poker palace goes titsup
Bombshell replaced by wrinkled cowboy
The collapse of internet gaming activity following the recent enactment of anti-gambling legislation in the United States has claimed another victim- Pamelapoker.com, the online poker website founded by none other than Pamela Anderson.
Pamelapoker.com was the latest attempt by a Hollywood celebrity to cash in the Texas Hold'em craze that has swept across the US in the last few years, but unfortunately for the artificially enhanced Canuck, her timing proved even worse than her acting.
Pamelapoker was started about four months ago by the buxom sex kitten as an adjunct to the Doyle Brunson Poker Network, and, according to her online diary at pamelaanderson.com, everything was going swimmingly until the United States Congress got its panties in a bunch over the easy accessibility of online gambling to Americans, where wagering is generally illegal. Her diary that had been full of eager plans for revealing photo shoots and online poker games with horny fans took a pouty turn yesterday:
Poker site should have been shut down last month. I have nothing to do with it anymore. Too many shady areas. I really don't want to encourage people to gamble. This must be turned off. It just didn't work out. Even in my heart. Good luck to Doyle's Room. I love him. He is authentic to the game. I made a mistake getting involved in something I know nothing about for a quick buck! Yuck. So unlike me. Glad it's over.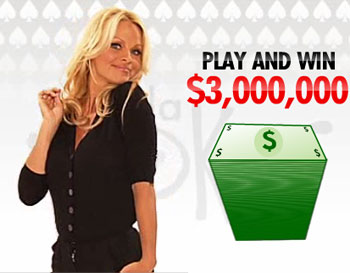 Doylesroom.com, the site run by John Huston look-alike and self-proclaimed poker legend Doyle Brunson, has taken over the operation of Pamelapoker.com - a development that only underscores her rather strange and unstable relationship with the gaming industry. According to the gambling news site Gambling911.com, Anderson and her entourage had a meltdown a couple of months ago at a party for the aforementioned impresario Brunson.
Comedian Brad Garrett, formerly of the hit American sitcom Everybody Loves Raymond, emceed the evening and repeatedly hurled sexually charged comments such as "you don't play at the table - you play under the table" at the former Playmate and Baywatch star. Notwithstanding that this was a celebrity roast, where such comments are part of the tradition, all hell broke loose and Anderson's manager challenged Garrett to a fight. As Anderson stormed out of the party with manager and friends in tow, Garrett tore into her one last time, yelling to her that she "still had enough time to blow all the members of Whitesnake."
Nothing personal, of course. Although the pressure group Poker Players Alliance has vowed to get an exemption from Congress to the recent legislation - claiming that poker should be reclassified as a game of skill, not chance - the decline of Pamelapoker.com bodes ill for the online poker community.
Attempts from the online poker community to elect sympathetic members to Congress met with decidedly mixed results, and yesterday's capitulation by Betonsports.com to civil penalties by the DOJ indicates that the tide is still going against them. The days of Chris Moneymaker parlaying an online tournament victory into a World Series of Poker Championship are long gone. ®