Cassini snaps extra-terrestrial hurricane
Saturn's swirling storm
Cassini has sent back incredible images of a monster storm that has developed at Saturn's South Pole.
The swirling storm is some 5,000 miles across, around two thirds the size of Earth. NASA estimates that near the eye the wind is blowing clockwise at around 350 miles per hour.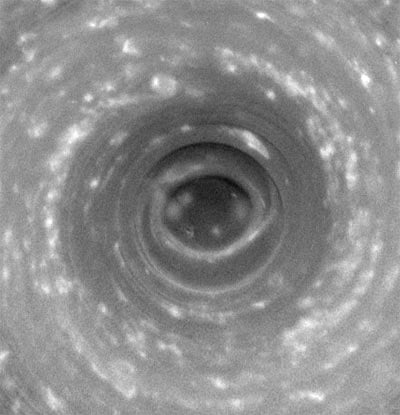 The image clearly shows distinctive eye-wall clouds and spiral arms of cloud extending from the central ring, between 25 and 40 miles above the bulk of the storm.
In terrestrial hurricane systems, eye wall clouds are formed by moist air flowing across an ocean surface, rising vertically, and releasing rain around the eye itself. This is indicative of a hurricane system, and has not been seen elsewhere in the solar system, until now. Even Jupiter's giant red spot does not have a central eye.
Although this storm looks very similar to a hurricane, researchers can only speculate as to its driving forces. There are, after all, no oceans on Saturn.
"It looks like a hurricane, but it doesn't behave like a hurricane," said Andrew Ingersoll, a member of Cassini's imaging team at the California Institute of Technology. "Whatever it is, we're going to focus on the eye of this storm and find out why it's there." ®