Samsung shows wireless-tastic sub-notebook
WiBro, HSDPA, Wi-Fi - you name it, the Q40 can connect to it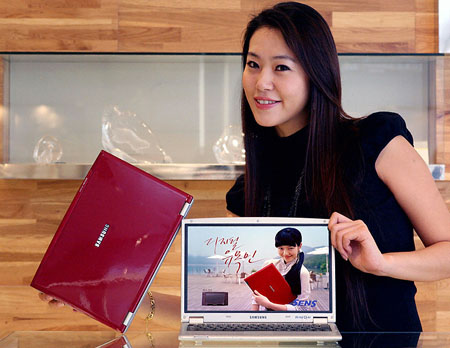 It's got a 12.1in screen, weighs a mere 1.18kg, supports all the official Wi-Fi standards, picks up digital satellite TV broadcasts, supports WiBro wireless broadband and - here's the killer - has a shiny red lid. Yes, it's Samsung's latest sub-notebook, the svelte Q40.
The unit's powered by an ultra-low voltage Intel Core Solo U1400 running at 1.1GHz but packs in 1GB of DDR 2 memory and a 60GB hard drive. Yes, it ships with a dual-layer DVD multi-format writer too, but it's an external one. On the plus side, Samsung claims the notebook has no fans, so it's almost totally silent.
Which is handy if you're sitting in front of it watching DMB digital TV programming.
Samsung said it will be offering the Q40 to South Korean consumers shortly, though at KRW2.2m ($2,336/£1,232/€1,837) it doesn't come cheap. The company also pointed to the Q40's support for HSDPA, the UMTS 3G high-speed download technology, suggesting the notebook could make its way to other markets in due course. We hope so. ®