Medion shows showy crystal laptop for the ladies
Oh, lordy
Diamonds are a girl's best friend, roars Medion's latest announcement, but you won't find any such gemstones on its new notebook, a Chavette-friendly laptop embossed with 300 Swarovski crystals - lead glass, as the material's known in the trade - arranged in Medion's logo and a flower motif.
Yes, the ostentatious SIM 2060 laptop is aimed specifically at women - footballers' wives, we'd suggest. The machine's plastic casing is of a "subtle" hue called 'pink chrome' with grey-green hints that looks as bad as it sounds. The Medion logo and flower decal are likewise coloured. The flower motif is repeated on the touchpad.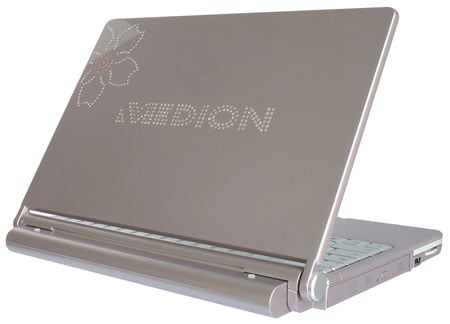 At least the spec's not bad. The 1.9kg SIM 2060 is equipped with a 12.1in, 1,280 x 800 display driven by the integrated GMA 950 graphics engine. It has a 1.73GHz Core Duo processor, 1GB of DDR 2 memory and a 100GB hard drive. 802.11a/b/g Wi-Fi is part of the package too, as is Bluetooth, Gigabit Ethernet, an SD/MMC/Memory Stick card reader, ExpressCard 54 slot and a DVD dual-layer multi-writer.
All of which will set you back £1,000. It's a limited edition, Medion's website said, though it didn't indicate how limited it is. The machine is available now at Medion's UK website. ®
Sponsored: How to get more from MicroStrategy by optimising your data stack