UK charity has minor attack of rebranding madness
Faint whiff of joss-sticks...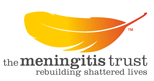 LogoWatch Ok, it's not a full-blown Powerpoint-driven attack of rebranding madness, but UK charity The Meningitis Trust has clearly been exposed to at least an quick burst of whalesong.
Back in September, trust big cheese Philip Kirby was driven by his company's new brand frontage paradigm to explain:
Our supporters have told us that we are protective, strong, caring, supportive, sensitive and enabling, and these values are reflected in the charity's new identity.

The warm feather icon is a powerful symbol for the qualities we stand for, coupled with our strapline commitment to "Rebuilding Shattered Lives".

With its strong spine the feather expresses each of our core values and our vibrant new colour reflects the brightening effect we hope to have on people's lives.
Not bad, but to see how it's really done, try the Strategy Boutique sketch on our new RTFM audio discharge.
In the meantime, we'd like to wholeheartedly agree with the anonymous Reading reader who spotted this minor outbreak of madness that The Meningitis Trust is "a bloody good cause". It is indeed, and there are details on how to make a donation here. ®