Intel Core 2 Extreme QX6700 quad-core CPU
Two cores bad - four cores good?
In addition to our normal set of benchmarks, I decided to take a peek at how well Windows Vista handled the new CPU. Alas, I ran into a couple of problems here. There seems to be quite a few issues with benchmark compatibility under Vista, so the numbers I have are limited. It's best to take them as ballpark performance figures.
The tests were performed using and Intel D975XBX2 motherboard, 2GB of Crucial Ballistix DDR2 memory clocked at 800MHz, a Western Digital Raptor X hard drive and an AMD ATI Radeon X1900 XTX graphics card.
Looking at the numbers below, you'll quickly see where the QX6700 excels and where it doesn't. Any multi-threaded application completes tasks more quickly on the four-core chip than the two-core one. The biggest improvements came from CineBench 9.5, although POV-Ray showed quite big gains as well.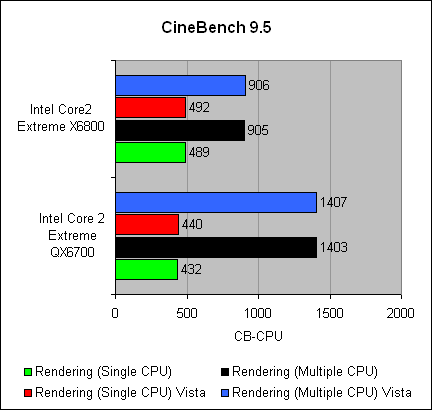 Rather disappointingly SYSMark04 SE didn't seem to take much advantage of the four cores, although the 2D creation test showed a significant improvement. It seems that SYSMark is still very reliant on clock speeds. PCMark 2005 showed a slight increase in the CPU score, and one that was higher under Windows Vista RC1 than Windows XP, but it wasn't a huge leap.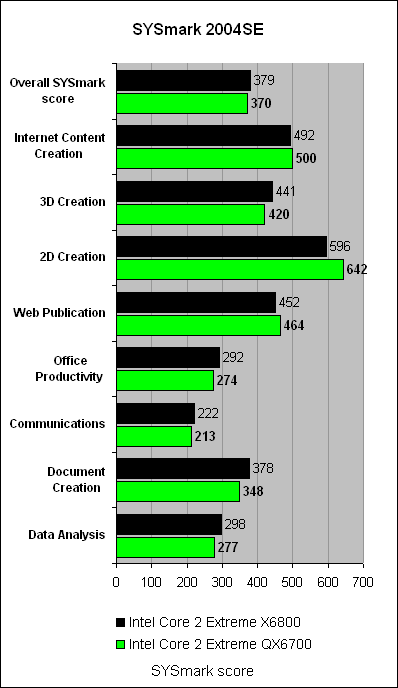 3DMark06 also gained some performance, although this would be due to the fact that two of the tests are doing CPU rendering, at which the quad-core chip should outperform a dual-core CPU. However, in the other 3D benchmarks the X6800 takes the lead, although with higher resolutions and filtering enabled, the gap closes quickly as the extra two cores begin to compensate for the chip's lower clock speed.