LG to mass-produce $150,000 100in LCD HD TV
Price tag more overwhelming than the screen size?
LG's monster 100in (250cm) LCD TV - already assured of a place in the Guiness Book of Records as the world's largest liquid crystal telly - is finally set to go into mass production, the company has revealed. Not that it'll come cheap: expect to pay at least $150,000 if you want one.
That figure's how much it costs to make the colossal display, LG said, so the retail price will be rather more than that, though the manufacturer was unwilling to put a number on it.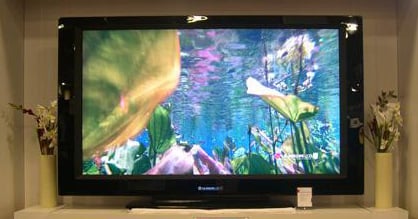 The humungous screen measures 2.2m x 1.2m and has sufficient pixellage to display 1080p HD content with ease. It's capable of rendering 1.07bn different hues at a 3000:1 contrast ratio. LG claims a 180° viewing angle and a 5ms response time.
The LG isn't the world's largest telly - that record is almost certainly held by Panasonic for its 103in plasma display which, like the LG LCD, has been doing the round at shows like CeBIT and CES during the past 12 months. ®