Asus unveils Viiv-friendly media centre
Asteio, take a bow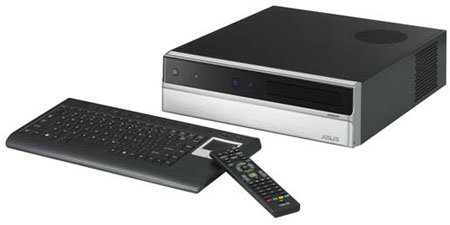 Say hello to Asus' Asteio D22, its first media centre, launched today in a bid for Viiv stardom. There's a dual-core Core 2 Duo desktop processor on board backed by a gig of memory and 250GB of hard drive space and one of the company's Silent-branded Nvidia 7600 GS-based passively cooled graphics card - all for an ultra-quiet system, Asus claimed.
The unit's DVR functionality is linked to a two-week electronic programme guide and a pair of digital TV tuners. With HDMI, component-video output, SCART, s-video and DVI ports, there are plenty of ways to hook it up to you telly. The D22 is ready for 1080p HD content, Asus said, plus 7.1-channel sound through its array of analogue and digital audio connectors.
And there are all the usual PC-style peripheral ports too, including USB, Firewire, Gigabit Ethernet and eSATA. The box has its own 802.11g Wi-Fi adaptor too. There's a multi-format DVD writer for archiving recorded programmes. A 13-in-one memory card reader completes the content grabbing functionality.
Asus is shipping the Asteio with a radio-frequency wireless keyboard with an integrated trackpad. And you get the usual Windows Media Center remote control too.
As usual, Asus didn't say when the Asteio D22 will ship or how much it's likely to cost. ®
Related reviews

Sony Vaio VGC-LA1 all-on-one PC
Shuttle XPC SN27P2 small form-factor PC
Elgato EyeTV Hybrid USB TV tuner for Mac
Sponsored: Becoming a Pragmatic Security Leader