VIA, Everex claim 'world's most energy efficient' laptop
Green machine, apparently
Taiwan's VIA today touted its eco-credentials once more, this time claiming the use of its C7-M mobile processor in US OEM Everex's NC1500 notebook makes the machines the most "energy efficient" laptop on the planet.
VIA based the claim on the C7-M's "best performance-per-watt operation in the industry" - at 1.5GHz, the clock speed fo the chip in the NC1500, the C7-M consumes no more than 12W.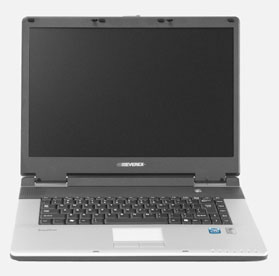 Everex has helped out a little too: the notebook's hard drive is a 60GB parallel ATA unit that spins at a mere 4,200rpm.
The machine's other specs include 512MB of DDR 2 SDRAM, dual-layer capable DVD burner, 15.4in, 1,280 x 800 display driven by VIA's UniChrome Pro integrated graphics engine, 10/100Mbps Ethernet, 802.11b/g Wi-Fi, 56Kbps modem and three USB 2.0 ports.
The NC1500 will retail in the US for $498, exclusively through 2,900 Wal-Mart stores. ®