Highways Agency deploys giant street-cleaning magnet
Road users spared metallic waste hazard
Travis Bickle has finally got his wish. As the mohicaned vigilante said in Taxi Driver: "Someday a real rain will come and wash all this scum off the streets. And, hopefully, someday a really big magnet will come and pick up all the potentially hazardous metallic waste from the hard shoulder of the M4..."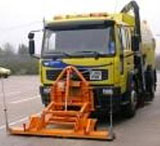 Well, Mr Bickle can thank the UK's Highways Agency for making this particular dream come true, because it has indeed deployed a really big magnet which "collects metal that has fallen from passing vehicles, which may pose a safety hazard to road users".
The magnet in question is bolted to the front of a Balfour Beatty Infrastructure Services road sweeper, which has to date scoured 32,000 km of the M4, M3 and A34 in Surrey, Hampshire and Berkshire, in the process collecting "more than three tonnes of nails, spanners, wheel nuts, money and more".
Highways Agency area manager for traffic operations in the south-east, Angela Koenig, confirmed that the large bar magnet was helping to improve safety for road users with: "The large bar magnet makes this an extremely useful machine which is helping us to improve safety for road users."
The magnetic road sweeper is also equipped with the standard "high-powered brush, a high pressure washing system and nozzle", meaning it can also wash all the scum off the streets. Harvey Keitel beware. ®
Sponsored: What next after Netezza?