Ex-Gizmondo exec on trial for Ferrari theft
Embezzlement and drunken driving too
A Swedish former executive of Gizmondo, the crash and burn handheld games firm, was in a Los Angeles court today, standing trial for drunken driving, car theft and embezzlement.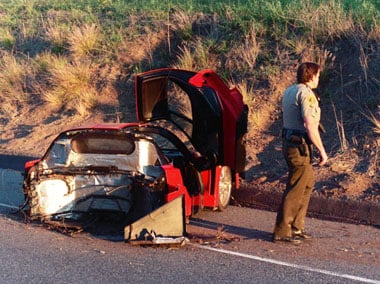 Bo Stefan Eriksson's world came crashing down on 21 February, one month after Gizmondo went bust with $200m debts, when he wrapped a $1m Ferrari Enzo around a lamppost on the Pacific Highway. He tested over the limit for alcohol, but denied driving the car at the time. A German guy, who he only knew as Dietrich, had been behind the wheel and had fled the scene, he said.
Eriksson, 44, later admitted making the story up, but on Monday he rejected a plea bargain that would have sent him to jail for two years and four months.
"I cannot agree that I stole the car because I didn't," he told the judge, Reuters reports. But the prosecutors say that he had stopped making payments on the Ferrari, along with another Ferrari Enzo and a rare Mercedes, worth $4m in toto, and he had imported the cars into the US, breaking terms set by their owner, a UK leasing company.
Eriksson has served jailtime in Sweden for assault, forgery and fraud and left Gizmodo in October last year, after his criminal past was revealed in the Swedish press. In the US, he also faces weapons charges. ®