PowerColor ATI Radeon X1950 Pro
Way better price:performance than its predecessor?
Review ATI's Radeon X1950 XTX proved to be an excellent performer, but the price tag was high, which put it out of reach for most of us. Today, ATI launches the X1950 Pro, a cut down version of the X1950 XTX. It comes in at an amazing price point and it's also got a couple of new features, in particular internal CrossFire connectors. But can it match its predecessor's performance? We tested PowerColor's X1950 Pro board to find out...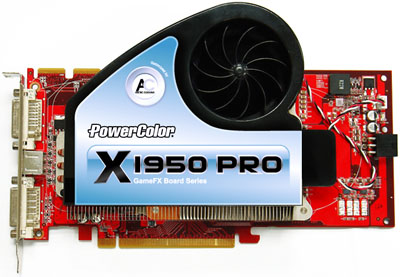 PowerColor's card is a little different from the reference cards you'll find reviewed elsewhere. The main difference is the cooler, and although ATI will supply a single-slot system with the X1950 Pro, PowerColor has gone for a dual-slot solution from Arctic Cooling, the Accelero X2. This means the card produces next to no noise at all. Ignoring passively cooled cards for the moment, I can say without a doubt that this is the quietest graphics card I've tested in a very long time.
But let's start with a closer look at what the X1950 Pro GPU - aka the 'RV570' - has on offer and how it compares to its older brother. The X1950 Pro has 32 pixel shaders and 12 texture units, down from 48 and 16, respectively, for the X1950 XTX. The core clock speed of the PowerColor card was 595MHz, which is only 55MHz slower than the X1950 XTX. The memory was clocked at 695MHz and this translates to 1,390MHz in DDR mode. This is quite a way off the 2GHz memory clock of the X1950 XTX.
We understand ATI is quoting clocks speeds of 575MHz for the core - which the PowerColor card beats by 20MHz - and 1,380MHz for the memory. Not much of an overclock maybe, but it's always nice to get a bit of extra performance for nothing. The card uses GDDR 3 memory and as this is more of a mid-range to high-end card rather than a top-of-the-range model it comes with 256MB of memory rather than 512MB.
One of the most interesting features of the X1950 Pro are the internal CrossFire bridge connectors. Nvidia has been using an internal connector for its SLI technology for ages, but ATI didn't want to play copy cat, hence the external dongle previously used to enable its multi-GPU technology. However, this was far from an elegant solution, and it was awkward to attach the cable to the special connector on the master cards. Then there was the matter of paying more money for the master cards, which really made CrossFire something of a mess.