SmartCaddie UMPC updated with Intel CPU
Celeron M replaces VIA chip
The world has another ultra-mobile PC design. Japanese vendor PBJ today unveiled its SmartCaddie EX UMPC, though the unit's not due to ship there until early December. The new model is essentially an Intel-based version of the model PBJ launched last April.
So out goes the VIA C7-M processor and in comes a 900MHz ultra-low voltage Celeron M. The SmartCaddie EX is equipped with 512MB of memory and a 30GB hard drive. The chipset is Intel's 915GMS, a UMPC staple.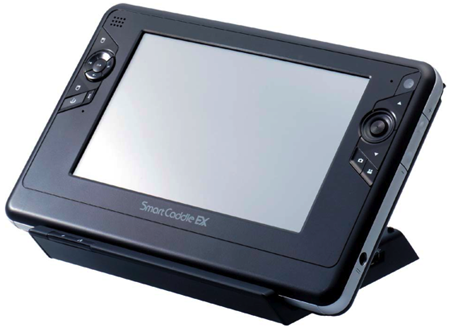 So too is the 7in 800 x 480 LCD, the Bluetooth support, the built-in 802.11b/g wireless networking, and the integrated SD/MMC/MemoryStick card reader. The SmartCaddie also sports a 1.3 megapixel webcam, but runs Windows XP Tablet PC Edition.
The new model is 50g lighter than its predecessor. Its 2,400mAh battery provides a mere 2.5 hours' continuous runtime.
PBJ is also offering a docking station for the UMPC. The add-on adds VGA, s-video, Gigabit Ethernet and two more USB 2.0 ports.

The SmartCaddie EX goes on sale in Japan early December for around ¥139,800 ($1,167/£629/€933). It's likely to be available to import soon after. ®
Related review