Netgear SPH101 Wi-Fi Skype phone
VoIP without a PC
Review To date you've been very much PC-bound if you wanted to use Skype for making VoIP calls, something that has limited its appeal to a degree. Not so any more, as the first set of Wi-Fi phones for Skype has hit the market and Netgear was the first to submit one to Reg Hardware for review...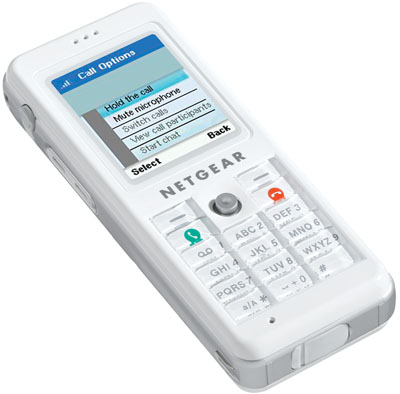 The not so imaginatively named SPH101 is one of the first Skype Wi-Fi VoIP phones to hit these shores, although Netgear isn't the only company with such a product and you can expect a review of SMC's rival handset here shortly. But back to the SPH101, which actually looks something like an overgrown Sony Ericsson T630, although it comes in iPod white with a silver strip around its middle.
It's actually rather refreshing to see such cleanly designed lines. It's a phone and it looks like a phone. It measures 11 x 4.6 x 2.1cm and weighs 110g, which makes it slightly smaller than most DECT phones.
The screen measures 1.8in in the diagonal and is comparable in terms of quality to those on budget mobile phones. It's most likely a 65,536-colour unit, but Netgear hasn't stated any screen specifications.
The keypad is quite stiff but not unreasonably so, and the four-way joystick makes navigation easy. To make selections you can either press the joystick inwards or use one of the two soft-menu keys that are located just below the screen. There are also call and end call buttons to complete the keypad.
On the left side is a volume key and a 2.5mm socket for a headset. On the right is a speakerphone button, although this didn't seem to do much on the review unit. At the bottom is a standard mini-USB connector, which means you can charge the SPH101 from either your PC or via the supplied charger. Finally, at the top is the power button, which will also open a menu if pressed quickly in which you can change the profile and your Skype status among many options.