Audioengine A5 amplified iPod speakers
Too good for MP3?
Review Loudspeakers designed for digital music players are ten a penny these days but their ambitions rarely extend to the audiophile. Most are intended to replace portable CD or tape units rather than living room systems, let alone pro-level kit. Apple's iPod Hi-Fi has helped show the player can drive room-filling kit, but US-based Audioengine reckons its Audioengine 5 (A5) set brings studio quality into the home...
The A5s are seriously hefty speakers - the left- and right-hand units weigh in at 6.4kg and 4kg, respectively. No great surprise this since they're an active - there's a built-in 45W RMS amplifier that's tuned, the company claims, to MP3, AAC and WMA compressed-audio sound. The perfect mix of audiophile quality and digital music simplicity?
Both units contain front-facing treble and mid-range cones both coloured black to contrast with the shiny white casing. Round the back, each has a rear-facing bass reflex port, so you're not going to want to put them too near a wall - at least 12cm from the surface, say. The cases have an 18 x 20cm footprint and are 25cm tall, so they're all set for mounting on good, solid shelves. They don't have feet, but Audioengine bundles a pair of foam pads on which to sit them.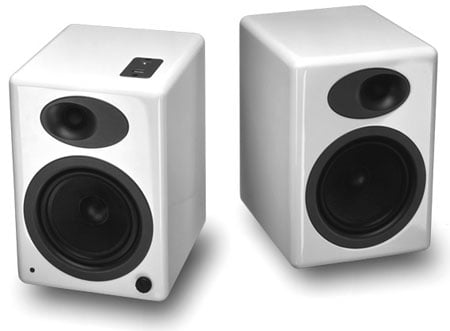 The amp is fitted into the left-hand speaker unit, which has a pair of spring-loaded clips in which to connect the cable out to the right-hand box. There's a voltage selector for non-US buyers with 230-240v mains supplies, and a power outlet to connect - Audioengine suggests you hook up Apple's AirPort Express box, to network the A5s.
On top of the left-hand speaker you'll find a standard USB port and a 3.5mm socket to connect the player's audio port to. Audioengine bundles short (20cm) and long (2m) 3.5mm-to-3.5mm cables - there's a second 3.5mm socket on the back of the speaker unit - along with a 3.5mm-to-RCA (female) adaptor cord, the 3.75m speaker-to-speaker lead (16 gauge) and a 1m USB extension cable.