Supermicro PDSBA G965-based mobo
Intel's latest integrated chipset arrives
Review Intel's G965 chipset has finally arrived, and the perhaps unlikely mobo maker to have the first product based on it is Supermicro, better known for its server boards. The rather un-fetchingly named PDSBA is also Supermicro's first Core 2 Duo-enabled motherboard. It's also the first mobo we've come across that doesn't support IDE. So unless you've got a SATA optical drive, you might run into some interesting problems...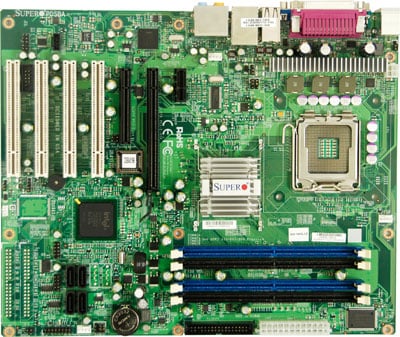 Nonetheless, the really interesting aspect of the PDSBA is the fact that it features Intel's new integrated graphics core, the Graphics Media Accelerator X3000. The X3000 is the performance part, while the Q965 chipset's GMA 3000, which lacks some of the 3D features of the X3000, targets for more mainstream applications. Neither are cutting edge, of course, but the X3000 should prove to be sufficient as long as you're aware of its limitations.
The X3000 is Intel's first chipset to feature pixel shader and vertex shader hardware - in previous GMAs, the geometry work was left to the CPU. The X3000 also features acceleration for WMV9 HD video content, but there's no support for other HD formats. The GPU uses programmable pipelines, something that ATI and Nvidia is working on for their next generation of graphics cards. However, the X3000 only has eight unified pipelines, so it can't process as much data as even a mid-range graphics card with 12 or more fixed-function pipelines.
The X3000 operates at 667MHz and can allocate up to 384MB of system memory for graphics usage. In our tests the BIOS was set to allocate 64MB by default to the graphics and another 64MB dynamically when needed, but more on that later in the review.