Toshiba touts laptop-friendly HD DVD burner
Slimline
Toshiba has launched a slimline HD DVD drive for notebook computers in a bid to boost support for the next-generation optical disc format. The drawer-mechanism unit not only reads and writes all ther usual DVD and CD formats, but also HD DVD recordable and rewriteable media.
The SD-L902A is 12.7mm high, Toshiba said, sufficiently short for all but the most ultra-portable of laptops, it claimed. Unsurprisingly, it took the opportunity to stress that this was possible because HD DVD is based on DVD's disc structure - a dig at the rival Blu-ray Disc format, which isn't.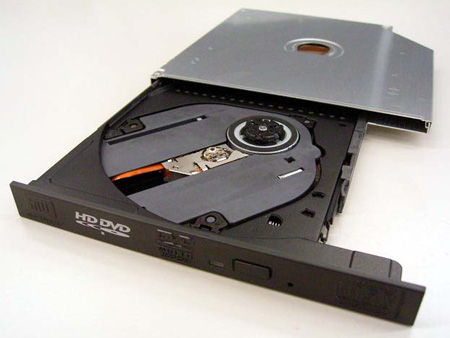 The 170g drive connects across an ATAPI interface and contains 8MB of cache memory. It can cope with both single- and dual-layer media.
Toshiba said it plans to show off the drive in Japan this week, but it couldn't - or wouldn't - say when the drive will ship to OEMs. ®