For the flash executive, there's the BlackBerry Enterprise Server. You'll need to sweet talk your sys admin to get it installed, but once it's in place you'll never be able to use the excuse 'I never got your email' again.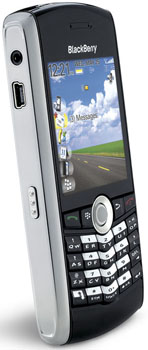 Messaging doesn't stop at email, though. With a few clicks you can install GoogleTalk and Yahoo! Messenger, so you can IM like the best, no matter where you are. If you're on rival AOL or MSN, though, you'll have to lay down some hard-earned cash for a third-party client to keep you in the loop - currently there's no official client for the two largest IM networks.
In fact, free software in general is a little lacking for the BlackBerry platform. There's an app out there for almost every need you could possibly want catered for, but given its business heritage those looking for a free ride will be sorely disappointed.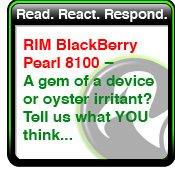 Even for something as obvious as RSS - given you're holding in the palm of your hand a state-of-the-art communication device - unless you're prepared to dig really deep into Google, you're going to have to pony up some cash for an easy-to-use client. Hopefully, with a decent consumer push, the situation will change.
To have a BlackBerry - especially one this good looking - though, is to love it. Once you're converted, you'll wonder how you previously coped. Thankfully, despite its small size, it's got a decent battery packed inside.
For battery life, you'll get a good five days at the very least, although leave Bluetooth turned on and you're looking at about half that. The Pearl supports Bluetooth 2.0 with headset profiles.
For PC hook-ups, RIM has thankfully avoided proprietary connectora and instead chosen a standard mini-USB plug - it'll even charge from the port if your PC can put out enough juice.
Sponsored: Webcast: Simplify data protection on AWS