Sling Media SlingBox networkable TV tuner
Beyond TV, SlingBox's auxilliary inputs and infrared dongles allow it to be hooked up and to control two other video sources - one on a composite-video connection, the other on s-video. Sling Media suggests a DVD player, for instance, but if you're away on a trip, this will only work if you can take it as read your partner/flatmates won't change the disc once you've set off.
The feature's far more useful for controlling a set-top box for remote viewing of encrypted channels, such as Sky broadcasts, and for setting your DVR to record that show you forget to activate before you left on your trip. I was pleased to find my Humax PVR-9200T included in the list of devices Sling Media has the infra-red remote control data for, so I gave it a go. Set-up's easy, and Sling Player popped up a suitably configured virtual remote control which allowed me not only to change channels, but also to access the programme guide and make sure the box recorded an episode of The Sopranos.
I was also able to call up and watch an episode of The League of Gentlemen recorded a while back and not yet deleted.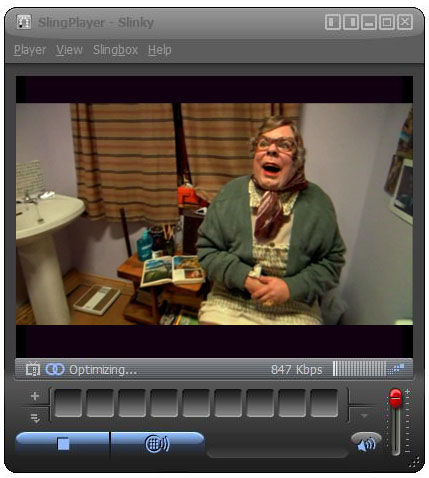 The downside is that controlling another device is laggy, and it feels worse as the available bandwidth narrows. But that shouldn't detract from the sheer joy of being able to control your DVR from somewhere else on the planet and catch up with programmes and movies you haven't had a chance to watch yet. It's almost as good as being able to watch the TV channels you want to view, not the ones your hotel thinks you'd like to enjoy.
And all this for under two hundred quid. Sling Media's shipping in the UK exclusively through Dixons Store Group outlets, which doesn't exactly make for competitive pricing, but £180's not exactly steep for what SlingBox does.
Verdict
SlingBox is inexpensive yet inexhaustibly useful. You don't have to be a frequent flyer since the SlingBox is as happy beaming BBC Four to your bedroom as it is sending the channel - or any other digital broadcast - across the world to a hotel in a foreign city. And not just TV but other media sources and your video recordings. Sure, you're not going to get the same experience as you would watching on a big TV, but it's certainly the next best thing. Genius. ®
Sponsored: Practical tips for Office 365 tenant-to-tenant migration

Sling Media SlingBox networkable TV tuner
It may look naff, but any box that sends your favourite TV channel to your PC, anywhere in the world, has be a must-have...