Sony Ericsson and Fossil launch Bluetooth watches
How about a snazzy name next time?
Today Sony Ericsson announced its MBW-100 Bluetooth 2.0 watch which it has developed together with Fossil. The watch features analogue dials and a small OLED screen. With the MBW-100 you can accept incoming calls and control the MP3 playback features of your Sony Ericsson Bluetooth-equipped mobile phone.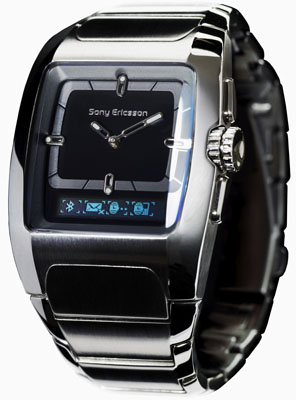 The MBW-100 features caller display and you can reject calls by pressing a button on the side of the watch. It will also alert you if you've left your phone behind and notify you when you have received a new text message.
Sony Ericsson supplies a charging clip and a charger with the MBW-100 and it comes packaged in an exclusive box. The MBW-100 is made out of stainless steel and will be available in silver as well as a limited edition black version. According to the press release it'll weigh 187.5 grams which seems very heavy for a watch and nearly 50 per cent more than most mobile phones.
The MBW-100 is expected to be available in Q4 and has a SRP of €300 or roughly £203.
Further to this announcement Fossil will be brining out its own range of Bluetooth-enabled watches in the Abacus MobileWear and Fossil Caller ID ranges. No further information was available on these devices at the time of writing. Please note that this is a new Abacus watch and it has nothing to do with the failed Wrist PDA from Fossil with the same name. ®