Sharp shows off three-picture display panel
No more arguments over who watches what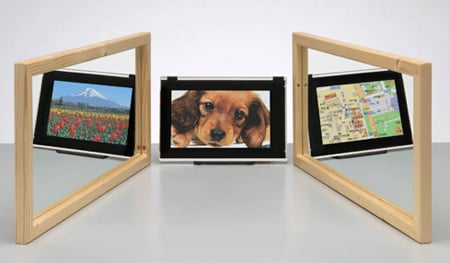 Japan's Sharp today demonstrated an LCD panel capable of displaying three different full-screen images simultaneously. Which of the three you see depends on which way you face the display.
Dubbed the "triple-view liquid crystal" display, the system uses a parallax barrier to angle the light from the three images to the right, to the left and straight on. Sharp didn't specify how the three pictures are rendered simultaneously - presumably they're shown sequentially at a triple-speed refresh rate so that each view sees a flicker-free image.
Applications for the system are clear. Sharp suggested an in-car screen allowing back-seat passengers to view different content - or even the same show - from a centrally positioned screen. We can imagine a TV based on Sharp's technology ending forever family arguments as to which programme they're going to watch - now they can view three channels at once.
The development builds on the two-way display Sharp demo'd last year. The company didn't say when the technology might make it to market. ®
Related reviews
Eye-Theatre video glasses for iPod
Elgato EyeTV Hybrid TV tuner for Mac
Gefen 4x4 HDMI Matrix