Rackable and Intel scratch each other behind AMD's back
Feels like the first time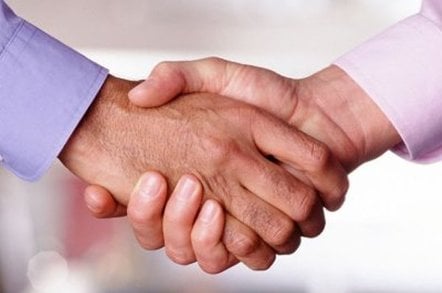 IDF Dangle the promise of a few thousand customers in front of a vendor, and just about anyone will show up to the Intel Developer Forum. Case in point, longtime Opteron backer Rackable Systems, which graced IDF with its CEO Tom Barton – in the midst of Intel CEO Paul Otellini's keynote no less.
In fairness, Rackable has long sold both Xeon-based and Opteron-based servers. Although, as recently as June, Barton confessed that the AMD gear accounted for close to 90 per cent of the company's sales. This past plug for AMD didn't stop Intel from wooing the cheap server seller nor has it stopped the cheap server seller from fawning in front of Intel's marketing teat.
"It is clear to us now that Intel has leadership in performance and in performance per watt," Barton said, while on stage for a plug during Otellni's opening IDF keynote.
During Rackable's most recent earnings call, Barton did indicate that he expected higher Xeon-based server sales than in the past. He didn't use as dramatic language as was witnessed today. In fact, Barton suggested that Xeon server shipments would likely nudge just a few percentage points higher in the coming months.
Regardless of who scratched what, when and where, it's clear that Intel and Rackable are enjoying a chummier relationship these days at AMD's expense, and it's all thanks to Intel's fresh versions of Xeon.
In between all the heavy verbal petting, Rackable managed to show off some actual gear. Barton flogged a 22U box jammed full of 40 servers running on Intel's upcoming four-core Xeon 5300 Series chips. All told, the dual-socket servers give customer eight cores per server or 320 cores in 22U – an "industry-leading density."®
Sponsored: Practical tips for Office 365 tenant-to-tenant migration