Intel on top of the server world again
At least in terms of publicity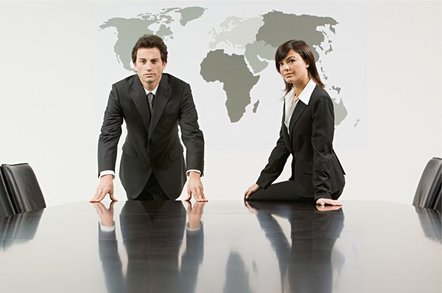 IDF Put a marketing man in charge of Intel, and you get a marketing-based product launch.
Come November, Intel will reclaim the x86 server processor buzz with the release of a four-core chip. Will customers buy loads of the pricey, hot high-end chip? Not likely. Intel, however, will be able to claim a major advance in the x86 server chip market for the first time since AMD pushed out 64-bit extensions.
"Much has been written in the last year about Intel losing momentum in the server (market)," said Intel CEO and marketing guru Paul Otellini, during this year's Intel Developer Forum. Later adding, "We have now regained our leadership, and these products are gaining traction across the customer base and around the world."
Intel's first quad-core processors will be an extreme edition Core Duo product aimed at desktops and its complement for the dual-socket server market. The chip will run well above 100W – close to 130W – and ship in limited volume.
The product is not a "native" four-core part in that it combines two dual-core chips via a packaging module.
Intel could care less about how many of these first quad-core products it moves. The idea is just to let people know that it's churning out quad-core gear well ahead of AMD, which beat Intel to the 64-bit and dual-core fronts in the server market.
"It's a good idea for Intel because they need to be seen again as leading the way and innovative," Jonathan Eunice, an analyst at Illuminata, told us. "The multi-chip package might not be as elegant as having the four cores on one piece of silicon, but it gives Intel a time to market lever."
Otellini took on a more aggressive and defensive tone, during an IDF session with the press.
"The initial (four-core chips) are multi-chip, but so what?" he said. "I think you guys are misreading the market (if you think customers care about that)."
By the first half of next year, Intel plans to release more practical versions of the four-core server chips at 50W and 80W. It expects the 80W product to show a 50 per cent performance improvement over today's top dual-core Xeons.
"Intel is rebuilding itself and rebuilding its products," Otellini said.
During Otellini's press session, an off man in a bunny suit appeared in the crowd. He didn't have on a chip making bunny suit but rather a proper Easter Bunny costume. Otellini placated the creature for a moment by fielding what turned out to be an inaudible question and then turned the stage back to the "real journalists," as an Intel spokesman put it.
Away from the bunny boy, Intel had another joke.
Intel CTO Justin Rattner brought a "dustbin of obsolete technology" on stage during his IDF keynote. The executive peeked into it and, rather than finding an Itanium chip as we had expected, pulled out a product from AMD.
"Wait a minute, it looks like there is an Opteron in here," Rattner said.
That humor probably won't go over so well with the 10,000 people Intel is laying off to help it compete against a stronger AMD. But, hey, everyone needs a laugh. ®
Sponsored: Detecting cyber attacks as a small to medium business